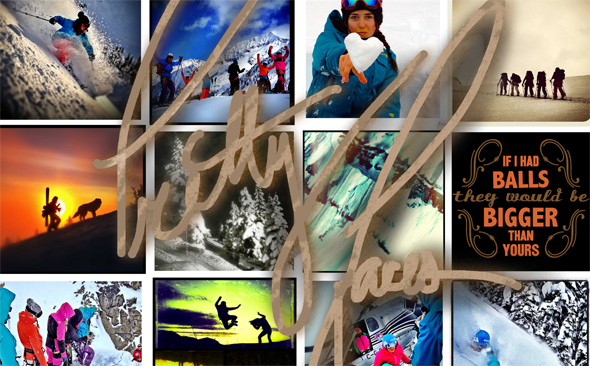 To mark the late Sarah Burke's birthday on 3rd September, Unicorn Picnic Productions released their trailer for the upcoming all-female ski/snowboard film 'Pretty Faces' with a mission to provide young girls with more positive role models than those they see on TV and in fashion magazines.
All the girls do indeed have very pretty faces but this film is based on the kind of faces we all love to shred on our skis or snowboards, above 5000 feet, and boy to these girls know how to shred. This film celebrates women's achievements and takes us from the Freeride World Tour to steep lines, even bigger cliff drops and finally to the always awesome all-female Nine Queens contest. Not to mention some crazy drops on snowmobiles, GoPro POV base-jump shots, doubles, huge bails, cute kids and everything in between.
Thinking they'll just be skiing like girls?! You'd be wrong, these girls have more balls than all of you and they do it with grace, elegance and style.
I could probably keep going on all day so here's the trailer:
With sponsors like GoPro, Smith Optics and so many others, these guys know this film is going to be great… so it's probably best to head to iTunes when it comes out and buy it.