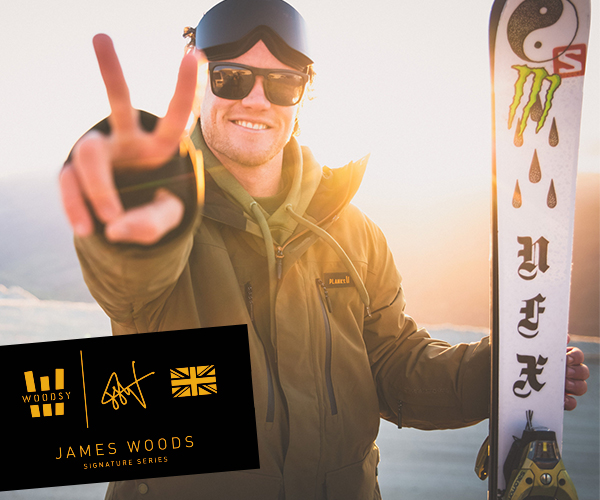 We met up with Planks' James 'Woodsy' Woods for an exclusive interview on all things Planks & ski related. Hear about his experiences as an athlete living in the public eye, his signature series as well as the evolution of skiing below..
How has the nature of the sport changed throughout all the years you have been involved in it?
Wow, a lot. Good question. The pure essence of what we do has never really changed as far as I am concerned. People go skiing because they want to go skiing, people hit jumps because they want to, but people are always wanting to go bigger and better. As soon as you see your friend drop off the side of the run, you want to do it too. We are basically an evolution of that, wanting to progress and go bigger and better than before. It still feels weird for me to call this a sport as it's something I love, and I find it crazy that we are now doing things in the Olympics, I find that completely mind bending. Of course there's even more that's changed with national government finances being involved, but for me, on a daily basis I see it on the mountain and I feel the essence of skiing hasn't changed, I just think the push or strive to do better and the personal reward is stronger within people these days.
Having been in the public eye for a long time now, do you feel a different kind of pressure, not just to succeed but in all aspects?
In all honesty, there is no greater pressure coming from anyone than the pressure I put on myself. I'm not saying that I'm pressuring myself to win and must win everything at all costs; it's more of my personal battle with my competitive self. I want to be the best I can be and be the best version of myself I can ever be, but, winning a competition does not always mean you are the best. Winning a competition does not define who I am and whether I can take the pressure off, obviously through my career I would love to win more competitions, but it's not what drives me as a person.
What does the future of skiing look like, not just for you, but as a whole? Which way do you see the scene going? More competition based or more freeride? And what do you think is going to be the next big thing?
It's hard to say what the next big evolution will be as only time will tell, but what I do know is the future is in the kids. The thrill and the rush of getting on skis or a snowboard for the first time is never going to disappear, people will still enjoy ski holidays for years to come. As far as the sport goes, it will keep pushing the limits and boundaries and it will keep getting more extreme. I know that because I'm an old dog in this sport and I'm still learning new tricks and there are kids coming in blowing my mind with what they are doing. I don't think you can really put a limit on human progression and hopefully nobody will ever try and put a cap on the limits we can go to.
Is it cooler to be a skier now, in 2019, compared to the 90's and early 00's when snowboarding was the new cool thing to do?
This is hard to put in a bracket. If you really have to ask yourself what is cool, what isn't cool, you might not being doing something just because you enjoy it. Myself, I absolutely love it, when I click in and land tricks I do have to say that I feel pretty cool. Maybe skiing has become cool in certain people's eyes, to me it's a recreational sport that I absolutely enjoy and these days it's not really about what's cool or not.
You have been working with the guys from Planks for a long time now, how did this relationship first come about?
I met the guys from Planks right at the beginning, when they were selling beanies from boxes out of the boot of a car. I started wearing the tees and beanies but my career within skiing started to take off. With this comes sponsorship which meant I wasn't allowed to wear the planks beanies and t-shirts I owned due to contractual agreements. After a while I found myself being in a good position within this industry and Planks has been a brand that's always been very close to my heart. Apart from being super stoked on the brand, the people involved within this company have been my friends for a very long time, it makes sense that we can work together to help make the company grow. It feels good to able to make a difference, and the brand is selling a lot more than just t-shirts and beanies these days.
---
#PlanksGrassroots Tour
---
How do you feel Planks stand out from other brands? With the grassroots tour being a real success, do you see them as a brand that's going above and beyond?
Obviously I love to think that planks are in a league of their own. It's fantastic to know that it's a British brand but has stuff happening in France as well as exciting stuff happening here in the UK too. It's great to have that British connection but it's vastly becoming a staple within the European circuit, which is amazing. Events like the GrassRoots tour are not only such a great way for the brand to gain exposure, but also bring home international riders to the people that are so interested in this side of skiing, the people that watch the dvds, get excited over this kind of stuff. For me, I'm passionate about this brand, the morals they have, the things they shout about and stand for, it has a special place in my heart.
The woodsy signature items tend to be some of our best sellers, do you feel like it's good for a brand to have a good rota of team riders, and do you feel like it benefits both the rider and the brand to have signature items?
On both sides I think it is great for both the riders and the brands to have signature items due to the fact that it brings both sides to the spotlight. It highlights how much involvement a rider has within a brand and how well the products stand up. There's no better product testing than the athlete who is out there day and night, at the top of the spear so to speak, who can feedback what's working, what's not and what's on trend right now. As a rider, it gives me great satisfaction to see my advice or feedback put into production, to know that the products I'm wearing are the products I want to wear and ride with. All round, the system is good, it benefits everyone involved and why wouldn't you want your cool looking products being worn by your cool looking rider (haha).
The UK scene has really started to blow up in the last few years. What are your thoughts on the indoors scene and the increase of talent we are seeing coming from riders who spend more time riding indoors than outdoors?
The UK scene right now is bigger than it's ever been and it's thriving. There are some amazing talents coming out right now, people seem to be into their winter sports more now than ever before. There is a part of me though that thinks the UK scene never really disappeared or went anywhere. Maybe coverage is more prominent now? Maybe it's wider spread? Who knows? We have always carried a very high talent in skiing and snowboarding that have grown up on dry slopes, indoor slopes and very few trips across the water. The difference is now we can see it all on the phones we use, the tablets and laptops at home. We have a way of posting ourselves or viewing what other people have posted. There's a lot more exposure now compared to the past. Now you can see the talent from an early age, landing bigger tricks, I guess there was never really an outlet for people to advertise the fact they were really, really good. I don't think we have ever really been in a better space for opportunity, to see talent, I think that goals are now more achievable and backing comes from bigger places and people are trying harder than ever.
Have you got a favourite wipe-out, that when you watch back makes you cringe and laugh? What advice would you give to people wanting to learn how to go big and how to stomp a landing?
I will say one thing, you can't make an omelette without breaking eggs. But, all joking aside, if you haven't had the practice or aren't confident, don't go flinging yourself off the biggest jump or kicker, as the outcome is not going to be good. If you put in the time, the effort and the practice, mixed in with respect, then you will be able to reach your goals. Be confident in yourself that you have done everything you can to prepare yourself and be ready. Remember, at the end of the day this is an extreme sport, if you are going to go down you are going to injure yourself, that's just the nature of it. You can be sensible and limit that risk of injury by practice.
Would you do anything differently throughout your career?
Easy answer, No. I wouldn't change anything, I am so grateful for everything. You learn from everything.
We have seen you turn to surfing on your downtime, what else do you like to do when not on the slopes?
Separating yourself from the sport is a great idea and being able to switch off, relax and having down time is essential. For me, Surfing is just perfect. It is something I can just dive head first into without any consequences compared to skiing. I also love sky diving, the adrenaline rush is just fantastic and is something I'm working my way up through to get all of my licences. A lot of my downtime is trying to not damage myself, or my body, as skiing is my life.