The Absolute Snow buyers look at a huge amount of reasons when looking at stocking a brand or a product, but what gives Absolute Snow the upper hand is the unbelievable knowledge and passion.
In this blog post, we are deep diving into how Daniel, our Buying and Merchandising for Climbing, Packs & Luggage, Photography and Technology who started with Absolute Snow as a graduate trainee, has found some exclusive brands that are only available at Absolute Snow.
How do you decide what to stock out of the huge amount of choice that faces you?
"I consider myself to be "a purveyor of awesomeness", a quote I have directly stolen from 3 Legged Thing (another phenomenal brand). Ultimately, when it comes to sourcing goods, I look for products that would directly benefit me as an outdoor backpacker, climber and photographer."
For you, what makes slightly lesser known brands interesting to stock?
"We live in a time where the outdoor industry is littered with brands that offer much of the same. Technologies are renamed, but the same. Designs that have remained unchanged for years. An array of styles that have jumped onto a bandwagon instead of forging their own path.
However, those who are the pioneers of innovation, those who aim to push the boundaries, those who strive to benefit the end-user are the products that are awesome."
What is the benefit of stocking products exclusively for Absolute Snow?
"Whilst innovative, exciting products may not necessarily sell in vast number, these goods are the pinnacle of a marketing item. That, for the select group who purchase them, will be raved about for years to come. These are the brands I am interested in stocking and to do it exclusively shows the genuine passion from our side and the willingness to support these fantastically innovative brands!"
Daniel has listed his favourite photography and running backpacks below and his reasoning behind why Absolute Snow stock these products exclusively in the UK.
NYA-EVO is an adventure photography backpack manufacturer that was established on Kickstarter in 2017 and they have developed an established reputation being designed by adventurers for adventurers.
Every NYA-EVO product has been created under the strictest levels of quality control. Built to keep your equipment and gear securely stowed, the packs provide immediate access for shooting a subject or environment on the go. These are products built for the photographer, traveller, adventurer and explorer.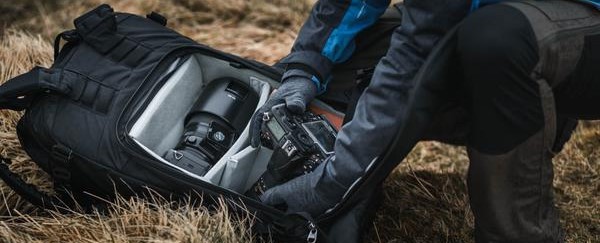 Daniel is a big fan of NYA-EVO and this is why he stocks them:
"If you didn't take a photo did the trip even really happen. As an alpine climber and photographer capturing moments on the side of cliff faces is fundamental to me spending time in the mountains. NYA-EVO offers the tool to enable me to do this. Their packs are designed specifically for the high alpine environments, with the bells and whistles of mounting clips/loops for ski and climbing hardware. Their packs feature Hypalon reinforcements for protection on technical terrain and most importantly, they keep camera equipment safe and close at hand - with space for mountain essential clothing. Packs designed to access all areas and carry the kit to capture the adventure- NYA-EVO"
Shimoda is at the forefront of adventure photography gear. Creating bags that are hardy enough to excel in the harshest environments, by eliminating the pains of gear access and storage Shimoda have focused on making it a pleasure for you to do what you love.
Shimoda Design was founded by Ian Millar and their first product, the iconic Explore series, was Kickstarted in 2017 and exceed it's goal by 600%. Since, it has quickly gone on to become an icon in adventure photography.
Daniel tells us about how he found this brand whilst in Chamonix:
"As a backpack nerd, I had been searching for the perfect combination of an outdoor trekking pack and modular camera backpack for years. After several attempts from the likes of F-Stop, LowePro, MindShift I was still missing something in the packs - comfort on the trail. I had almost given up hope when I came across a guide using a Shimoda pack in Chamonix. After a conversation he allowed me to try the pack on. It was this moment where my search was over. I dedicated my time after the experience to acquire and stock Shimoda Designs and to bring them to the spotlight for other adventure photographers. With a carrying harness more akin to a running vest and offering no compromise on camera access - this is the one outdoor photography pack brand to rule them all."
Coxa Carry comes from the idea to create a backpack that neither limits nor, creates any deteriorating damage was born in 1968 when Claes Bergkvist, who at the time was a young scout on hike, suffered severe chafing with tired shoulders, due to his ill-fitting backpack.
The solution to the challenge at hand finally appeared during a mountain hike in Italy in 2008. Claes bought a sewing machine and the first prototypes were developed in a basement, to later be developed into its final form, a carrying system that shifts all the weight from shoulders to the hips and allows for full movability without any unnecessary chafing or pressure.
Coxa has today a full range of backpack products, both with included hydration bladders and a range of accessories with a clear aim to improve the comfort and performance of the user of our products.
About Coxa Carry, Daniel says:
"Coxa's carry system re-defined the backpack market. Their unique harness system results in no restriction of the wearer's freedom of movement on both the shoulders and back. The packs make you feel like you're carrying nothing at all. With a range of potential uses, these packs were brought in to cater to an array of sports and customers needs. Their packs allow you to "Feel The Freedom" regardless of the activity."