Home

>

K2 Revolver Pro Ski Boots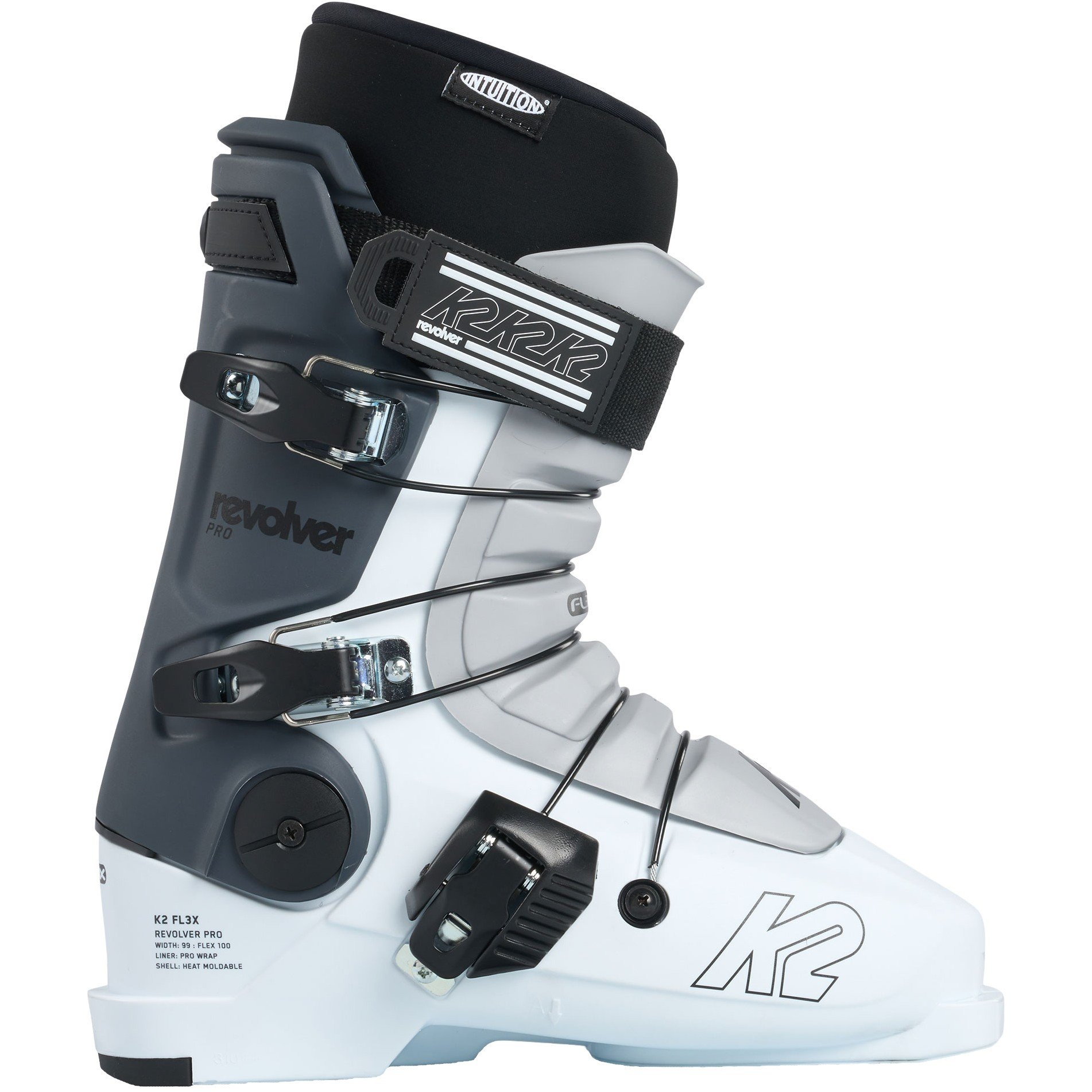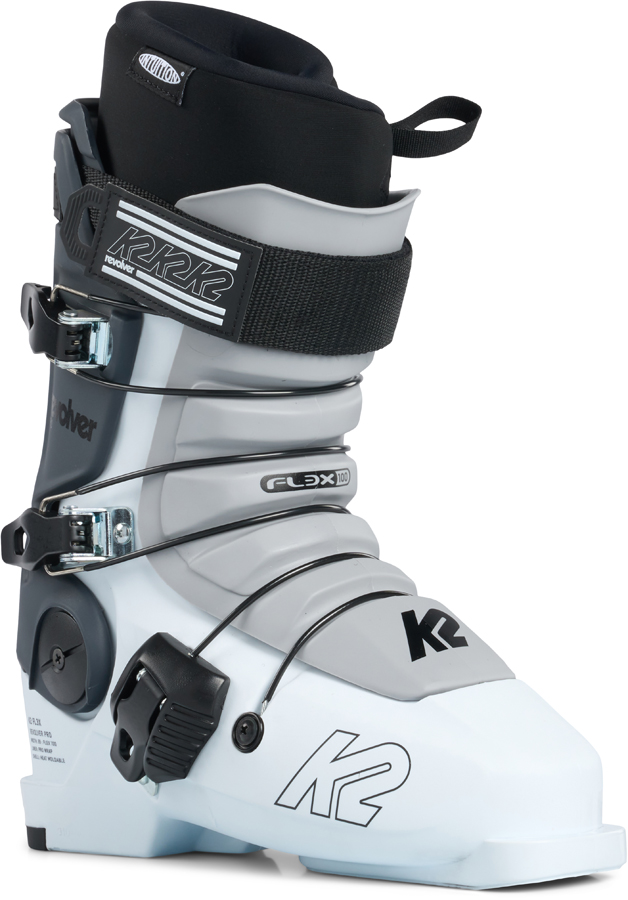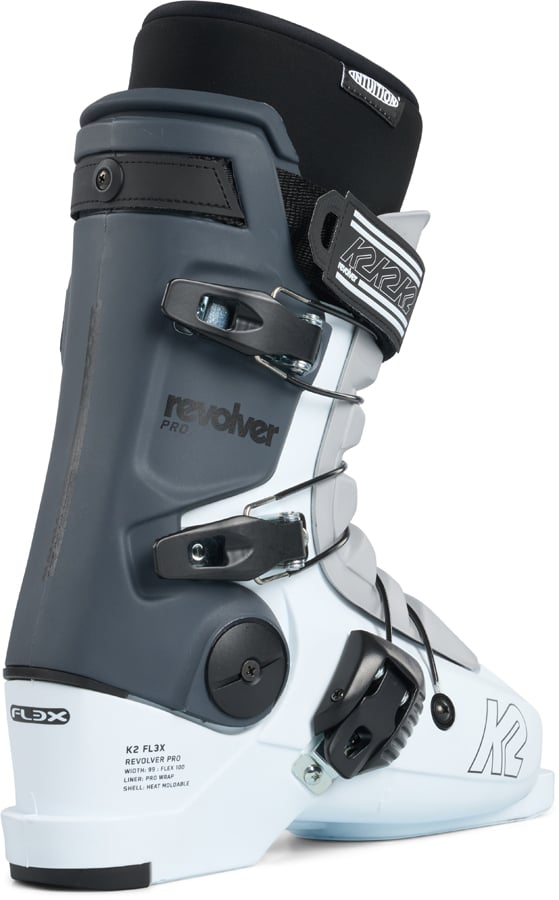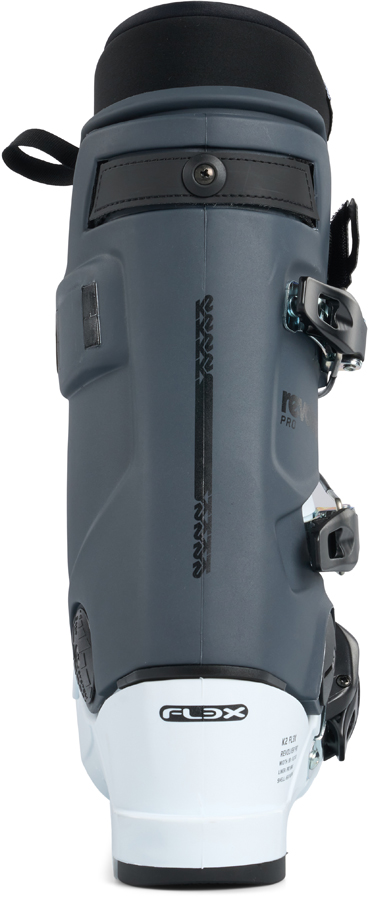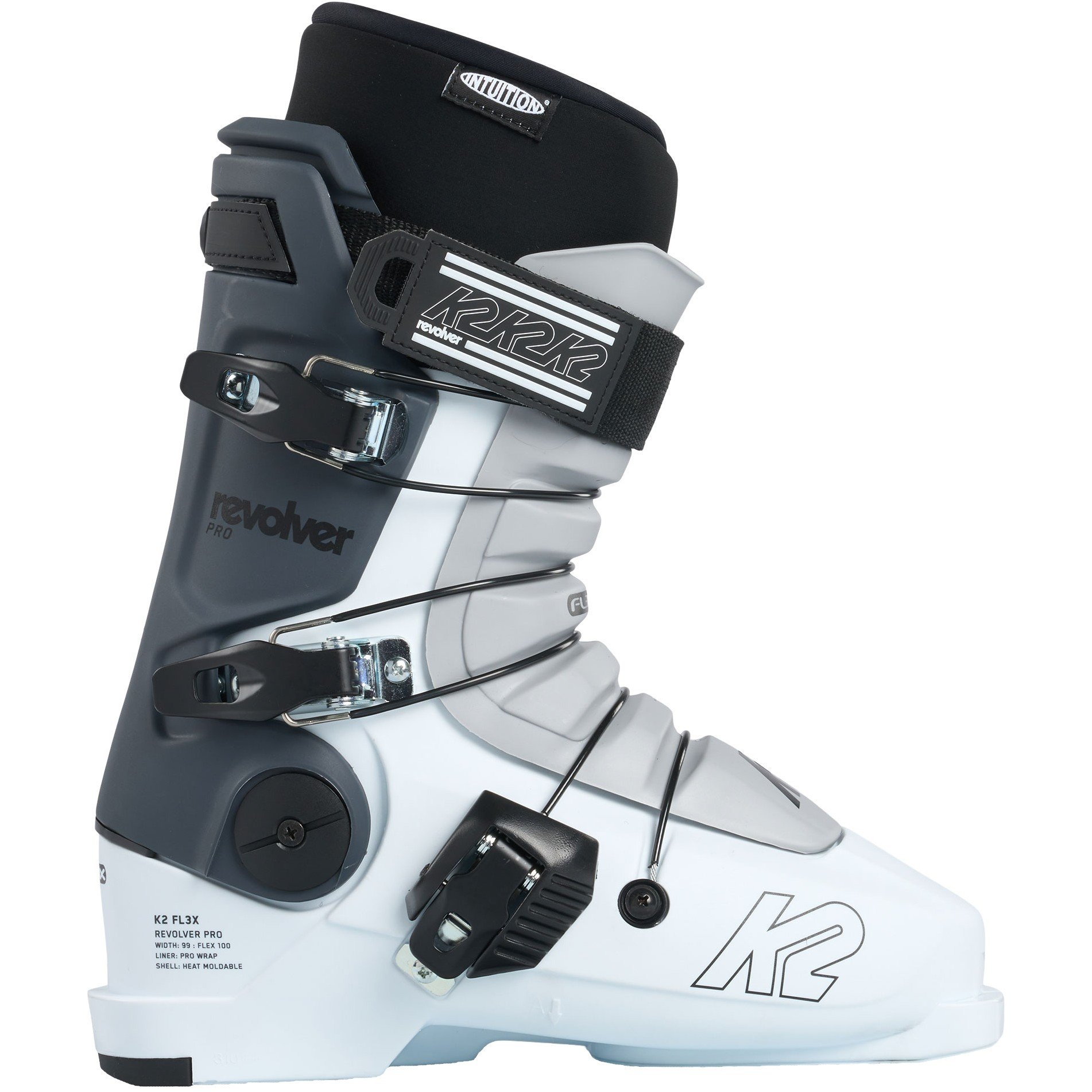 K2 Revolver Pro
The Revolver is the lightest freestyle boot range on the market!
Free UK delivery available
30 days to return
Need some help with this product?
About the K2 Revolver Pro
One of the lightest freestyle ski boots on the market, this Revolver Pro Boot from K2 keeps things clean but packs in a ton of performance.

With a 99mm last, this boot sits on the narrow end of medium width which allows it to be a versatile fit. Narrow enough for those with low-volume feet, but capable of fitting plenty of mid-volume riders too thanks to a custom mouldable shell that can press out to improve the fit in a matter of minutes.

As with all of K2's Flex boots, the heart of the Revolver's construction is the 3-Piece Shell. This is fundamentally different to traditional 2-piece alpine boot construction because of the addition of a separate boot tongue as well as the cuff and clog. This separate tongue has a ribbed shape which works with the pivot point in the boot's cuff to allow a smooth forward flex which doesn't distort the shell.

This transmits power more effectively to the ski, helps absorb the impacts of landings, increases comfort and helps riders flex into butters and presses, for excellent freestyle performance. While this boot comes with a medium flex tongue, these tongues are interchangeable, allowing for stiffer tongues on firm freeride days or softer ones for pressing your way down some slushy park laps.

The Revolver is noticeably lightweight compared to traditional alpine ski boots, which is always helpful when you're pulling your feet up for grabs or trying to dial in new spins. The Wide Track buckle system uses aluminium levers rather than plastic, which boosts durability yet still offers the same pressure-point-free feel that's always been associated with Full Tilt. Underfoot, a shock-absorbing layer of rubber in the boot board helps further towards absorbing impacts and vibrations, whether that's from charging through re-frozen choppy snow or jumping onto a rail.

Intuition liners are popularly regarded as the best on the market, and for good reason. The Pro Wrap liners use a proprietary structure of foam that moulds naturally to the wearer's feet, creating a precise and comfortable fit that gives amazing performance and insulation as well as feeling lightweight.

The Dropkick Pro upper uses an additional liner of ergonomically-shaped EVA wrapped around the outside of the liner, which increases energy transfer and power to the shell, together with J bars foam internal inserts on both sides of the ankle area to increase ankle hold, keeping your feet perfectly in place for precise control.
Features Include:
3 Piece Construction: This construction of ski boot uses a separate tongue which flexes without distortion or discomfort, resulting in direct energy transfer to the ski
Ribbed Grilamid Tongue: 100% Ribbed tongue enables smoother, more natural linear flex from your shin to your toe. The tongue bends like a flexible straw, never bottoming out while providing smooth rebound
Infinite Pivot: Pivot from the rear cuff never bottoms out, moving with your calf for less shell distortion and more control
Widetrack Buckle System: Durable aluminum levers with a minimalistic lightweight design. This adjustment mechanism is engineered to increase precision and durability while maintaining on-the-fly, single-handed micro-adjustment
Shock Absorbing Bootboard: Soft rubber layer in the sole of the shell absorbs vibrations and impacts for a smooth ride and smooth landings
Pro Wrap Intuition Liner: Intuition foam liners offer a super comfortable mouldable fit, performance feel and insulation
The Lowdown:
Flex: 5 Flex Tongue / 100 - Medium
Last Width: 99mm
Liner: Intuition heat mouldable liner
Shell: Heat mouldable shell
Walk Mode: No
Mountain Profile: Freestyle / All Mountain
Ski Boot Sole Compatibility: Bindings accepting alpine soles under ISO 5355
Condition: Brand New
There's a reason why K2 skis continue to rank in the top five brands in U.S. Snowboard sales, and why K2 snowboards continue to be rated in the Good Wood Rating of Snowboard Magazine.
Explore K2