Home

>

Lib Tech T.Rice Orca All Mountain Hybrid Camber Snowboard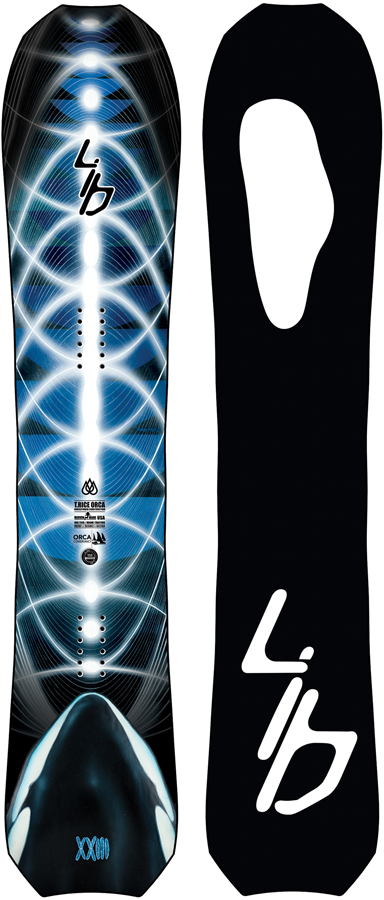 T.Rice Orca All Mountain Hybrid Camber Snowboard
This product is currently unavailable
Award winning aggressive freeride, directional shredder to slash the entire mountain, this apex predator will have you destroying everything in its path!
Free UK delivery available
30 days to return
Need some help with this product?
About the Lib Tech T.Rice Orca
Lib Tech's Orca is a collaboration with snowboarding legend Travis Rice, aimed at creating the snowboards of his dreams. And being one of the greatest snowboarders on the planet, you can bet your bottom dollar that Travis Rice's dreams revolve around the very highest levels of snowboarding performance and absolute dominance in every aspect of the sport. Behold then, the Orca! Lib Tech's all-mountain freestyle technical powder predator!

This board features Lib Tech's groundbreaking Whale Tail Technology, a tail construction developed specifically for this board. A fresh take on the classic fishtail powder-specific board shape, it features the classic swallow cut-out to help it sink into powder but has a very tight radius and a short, steep rise. This makes it incredibly responsive and manoeuvrable even in deep snow and really allows you to lean into the front of the board without ever burying the nose.

A C2X Banana camber profile has been included which has been adapted from the award-winning C2 profile and provides a shorter, more aggressive rocker between the feet with a longer camber that sits more underfoot. This makes initiating turns easy and helps maintain float in powder. This profile also contains extra tip and tail pressure to enhance pop, stability and precision.

This sharp short rise in the tail and a gradual rise to the classic extra-wide powder nose at the front give the board plenty of float, and in true directional board style, it has a long nose and set-back binding mountings for a tail-heavy, surfy stance. All this makes it the perfect partner for even the deepest of backcountry powder sessions.

However, what makes this board so dreamy is that, unlike most powder-specific fishtail boards, it also features plenty of tech that makes it just as fun to ride on the hardpack as in soft stuff. Lib Tech's innovative Magne-Traction edge construction gives the board a serrated shape that digs into crust and grants absolutely effortless edge hold in the steepest and iciest conditions. The Aspen and Paulownia wood core is very lightweight yet strong and features triaxial and biaxial fibreglass with Basalt Alloy struts. This creates outstanding torsional strength and stability, which makes it incredibly stable and responsive, even in the choppiest of chop and crust.

Coming with a generous wide waistline, this board is literally made for ploughing deep powder and carving up the corduroy. The wide shape allows you to really lay it over onto its edges without the slightest bit of toe drag, so you can edge out the biggest carves on the hardpack and the surfiest of deep powder turns. A deep 7-meter side cut will really get you laying out those perfect turns and massive snow sprays just like the master himself.

Lib Tech's goal was to create a directional board focused on high-performance fun, and with the T. Rice Orca, they have done exactly that! If you love effortlessness carving around the resort and floating through the deepest pillowy powder, this board truly is the stuff of dreams.
Features Include
Horsepower construction - Lighter and Smooth construction containing a two-type wood core, Basalt Tri/Bi-ax fibre glass, Bio Beans tops sheet, TNT base, Birch and sintered sidewalls and tip/tail impact deflection
Xtreme C2 - Hybrid Banana rocker and Camber profile, extra solid tip and tail pressure for power, pop, precision and total stability. Medium amount of pressure between your feet for carving, edge hold on ice and float in pow
Magne-Traction - Seven points of focused edge control to provide unreal edge hold and control in all conditions. By creating a serrated edge with 7 bumps you get more contact with the snow and more grip and control
Tri/Bi-Ax Fibreglass - The perfect blend of Tri-Ax fibreglass at 45°, 45° and 90° to enhance torsional strangth and Bi-Ax fibreglass at 0° and 90° to enhance pop
60% Aspen/ 40% Paulownia Wood Core - Ultra lightweight, durable, strong and environmentally sustainable wood that feels lively
Eco Sublimated Bio-beans top sheet - Environmentally friendly bio-plastic top sheet created from Beans! Eco-friendly and providing the best strength to weight ratio of all top sheet materials on the market!
UHMW Sidewalls - Unique to Lib Tech boards these are tough, fast, hard, waterproof and best of all eco friendly due to the lack of toxic ABS!
UHMW Tip & Tail Impact Deflection - Reinforcements to protect your board from scratches, dings and de-lams
Birch Internal Sidewalls - 90 degree pop tech and power transfer spines developed in Lib Tech skateboards are placed along the sidewalls to add extra control, strength and more pop
Sintered Knife Cut Base - Ultra Fast, durable base with high wax absorption
Hand Crafted in the USA (Near Canada) -Hand built snowboard by enthusiastic staff at Mervin. Each board comes with the individual makers mark of approval
The Lowdown
Rider Profile: Intermediate to Advanced
Mountain Profile: All Mountain/Freeride/Powder
Camber Profile: C2X Hybrid
Shape: Directional
Base: Sintered Knife Cut
Flex: Firm 7/10
Condition:Brand New - Factory Waxed
Length
(cm)

Waist Width
(cm)

Boot Size
(uk)

Set Back
(cm)

Rider Weight
(kg)

138

24.7

6-10

2.0

40--70

144

25.5

7-12

2.0

45-90

147

25.7

7-12

2.5

54-95

150

26.5

8-14

2.5

56-100

153

26.7

8-14

2.5

58-105

156

26.7

8-14

2.5

60-109

159

26.7

8-14

2.5

63-115

162

26.9

8-14

2.5

75-115
Reviews
Not ridden it on resort but xscape wan ok with what was there. Nice flex and positioning.
Lib Tech is most famous for two of the technologies they introduced to the world of snowboarding: banana shape snowboard profiles and Magne-traction edges. Together these revolutionized snowboarding back in the early part of this century but Lib has not rested on its laurels, constantly introducing fresh ideas and stunning graphics to all of its snowboards.
Explore Lib Tech