To keep you healthy and of a sound mind, we have put together a list of ways for you to maintain your fitness as well as your sense of adventure from the comfort of your home. With everything you need delivered straight to your door, you can start planning your next adventure with our great deals and we'll drop our prices as well as your parcel right at your door.
Find Your Balance

Balance boards are a great way to get that on board feel whilst in insolation, but are also perfect for anyone to increase their coordination, balance and leg strength. Not just for people involved in board sports, these boards are great for working on your core fitness. Balance boards help you prepare for a variety of sports, focussing on improving your motor skills, meaning that any sport that requires agility and skill, will definitely benefit from cross training on the board. Clinical studies have shown that a consistent balance training regimen reduces the risk of injury injuries (specifically lower body joint injuries) as well. Over time you will notice an improvement to your performance, so, what better way to keep the excitement alive than jumping on a balance board? Plus we think it looks a lot cooler than doing a press up!

Climbing Strength

If you are a climber, you are probably missing your climbing wall right now. So, what can you do to keep up your strength? You might be surprised in the vast amount of training tools we have available to help you whilst you are stuck at home. Our range of hangboards and fingerboards are perfect for maintaining your pull-up power, but also help with your general core strengthening. We also have a wide range of warm up aids and hand care balms to make sure your hands are ready for getting back on the wall, and hand exercisers, which are perfect for keeping up your post climb strength and making sure you are prepared for when it's time to go!
Find Your Calm

Your local yoga studio may be closed, but that's no reason to worry. Why not move your set up from the studio to your own home? With an increasing amount of yoga classes being run online, you can nurture your mind, body and soul all from the comfort of your own home; no need to go into the outside world. Now is the perfect time to take your yoga practice to the next level. Our range consists of everything from blocks and straps to towels and mats, meaning anyone of any age can carry on practising from any place you find yourself stuck in. With everything that's been happening around us in the world recently, it's good to take a moment to breathe, relax and find your inner calm.
Looking After Your Gear

The snow season has had an abrupt end, and for the moment there's no chance of being able to fly down to the southern hemisphere anytime soon. Whilst you have this free time at home, why not give your gear some decent attention and store away the right way for the summer months. Buying a new ski or board bag for storage or finally servicing your skis before storing them away...now is the time to do it! The last thing you want is to take your board or skis out of hibernation only to find the summer hasn't been kind and it's in an unrecognizable state. So here are some tips on how to treat and store your snow gear over the next 6 months…
Wall Mounts

Some of us don't like to put our gear into storage as it means the end of the season has come and it's a long wait for the lifts to open again. So, why not use this time you have at home to find that perfect spot and display your favourite board or use these wall mounts to hang up your collection of shredsticks. We stock a range of different style wall mounts, from display shelves to three point wall mounts, these are perfect storage solutions whilst giving your place that freshen up you've been meaning to do. Much neater than that rusty bracket or the homemade shelf, plus your mates will be jealous of your new feature pieces in your living room!.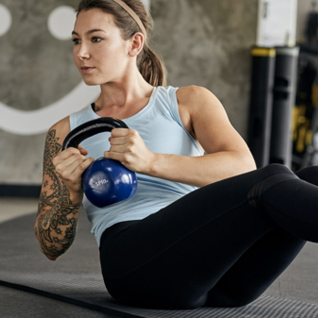 Keeping Fit

One of the most popular at home activities that everyone is getting involved with is fitness. Sure, you can get out for some exercise everyday but for a lot of us, it's just not enough. What are you meant to do when the gym is closed? How about some home fitness equipment? Not just for when we're on lockdown, we have a wide range of home gym equipment; from balance balls and resistance band training, to cardio equipment and weight training, there's definitely something for you whatever your workout style.
Slacklining

Now is the time to try something new, so why not give slacklining a go? Perfect for training your core and improving your balance, slacklines are simple to set up and easy to use. Modelled on tightrope walking, instead of rope, slacklines are made from a tether which has less tension and give compared to rope. This makes it perfect for all ability levels, from beginners to advanced. With plenty of accessories available, you don't even need two trees to set up your slackline.
Set Up Camp At Home

Remember as a child when you could set up camp anywhere? Just because you're stuck at home, doesn't mean you can't camp, you just have to set up in your garden, or your living room, or, well, anywhere you want to in your home! There's never a bad time to test out your new camping gear. Why not try cooking dinner outside on a camp stove or taking those camping chairs for a try out whilst looking up at the stars with a hot drink? Now, more than ever, camping is coming home!
Clothing for the Great Indoors

At home is where you're meant to feel your most comfortable! Now that we're all stuck indoors, it doesn't mean that great outdoors style has to suffer. From t-shirts to hoodies to blankets (ok, we know blankets aren't clothes but who doesn't love a cozy blanket right?) it's about keeping that sense of adventure alive, even when you're sat on the sofa. Keep checking our online store as we have New Arrivals for the season being added daily.



Take The Kitchen Outside

Being stuck inside for this amount of time can have it set backs & mealtime is one. Normally, we break up the time being spent in the kitchen by going to restaurants, fast food take outs or the classic pub sunday roast. If you're feeling a bit stale, have you thought about taking the kitchen outside? Normally used when you are miles away from home, our selection of stoves and grills will have you set up in the garden in no time. Don't want to take your household items outside? Check out our range of camping cookware and accessories to add a bit of spice to your cooking routine, combine your love of camping stoves and take your meal time outside. Want to know more? Have a read of this article for tips on how you can simplify recipes to skirt any unnecessary trips to the shops.
Follow Our Routines To Keep That Muscle Memory Strong
We're all in this together so with the help of our brands and ambassadors we've put together ideas on how to keep the outdoor spirit alive with training routines specifically designed for people who love action sports. The adventure starts at home!