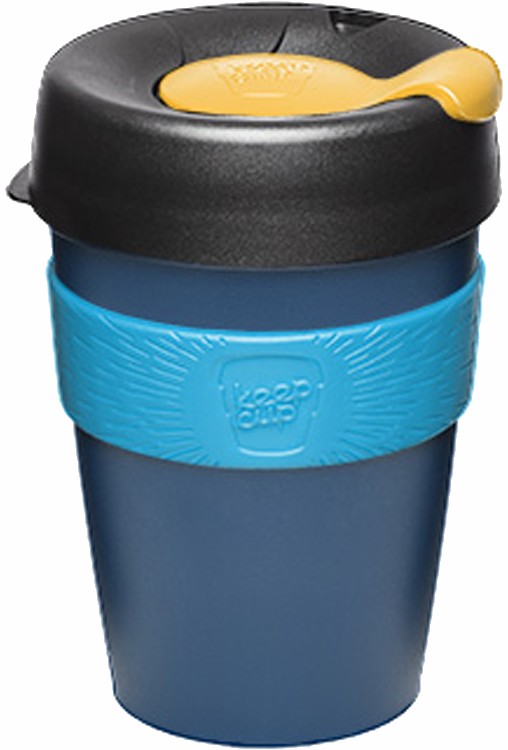 Original Reusable Tea/Coffee Cup
This product is currently unavailable
Reduce your disposable cup footprint with KeepCup's Original reusable coffee cup
Free UK delivery available
30 days to return
Need some help with this product?
About the KeepCup Original
KeepCups are designed to replicate the look and sizes of common coffee shop disposable cups with splash-proof lids. The biggest difference is that KeepCups are built to last and are therefore reusable. This means you can transform your daily coffee, tea or smoothie ritual into a more environmentally friendly addiction by reducing the number of disposable cups you use to zero.

The Original KeepCup in Storm colourway is made from BPA-free polypropylene and features a grippy silicone band. The lid features a swivel plug which covers a hole big enough to drink comfortably out of and also fits straws for cooler beverages.

The medium KeepCup size is equivalent to 340ml (12oz) which is roughly the size of a large mug. As it replicates a typical coffee shop sized mug, your barista can create your brew straight into your KeepCup.

Using your own KeepCup will likely knock off a few pence from your order total. If that's a 20p saving once a day for 365 days, you would be saving £73 a year! Not only does this KeepCup investment line your pockets, using a KeepCup means you directly create less waste by opting for a reusable solution rather than a disposable one.

The Original KeepCup is the perfect vessel for a sophisticated and refined brew of your favourite beverage. Let KeepCup enhance your takeaway coffee experience and join the Reuse Revolution!
The Lowdown
Cup: Polypropylene (can be heated to 100°C / 212°F)
Band: Silicone
Lid Colour: Grey (polypropylene - BPS & BPA free)
Plug Colour: Grey (covers drinking hole)
Dishwasher Compatible: Safe on top shelf
Recyclable at end of life
One-year warranty on defects & faults
KeepCup products are designed to replace the disposable cup – not a thermos. They have a splash proof, not a leak proof, seal.
A KeepCup is a must have for busy commutes, office dwellers, university life, home brews and is the perfect gift for the coffee aficionados in your life.
Size
Capacity: 340ml | 12oz
Height (lid on): 12.5cm | 4.9 inches
Height (lid off): 11.1cm | 4.4 inches
Cup Base Diameter: 6.1cm | 2.4 inches
Weight: 98g
KeepCup
REUSABLE, NOT DISPOSABLE
KeepCup is a revolutionary company with the answer to eradicate the use of disposable takeaway tea and coffee cups. KeepCup design reusable plastic and glass cups with reliable materials which are made to last. Each KeepCup size option replicates the typical cafe sized disposable cups meaning baristas can easily create your brew straight into your own reusable cup.
Explore KeepCup