Home

>

Nidecker Supermatic Step In Snowboard Bindings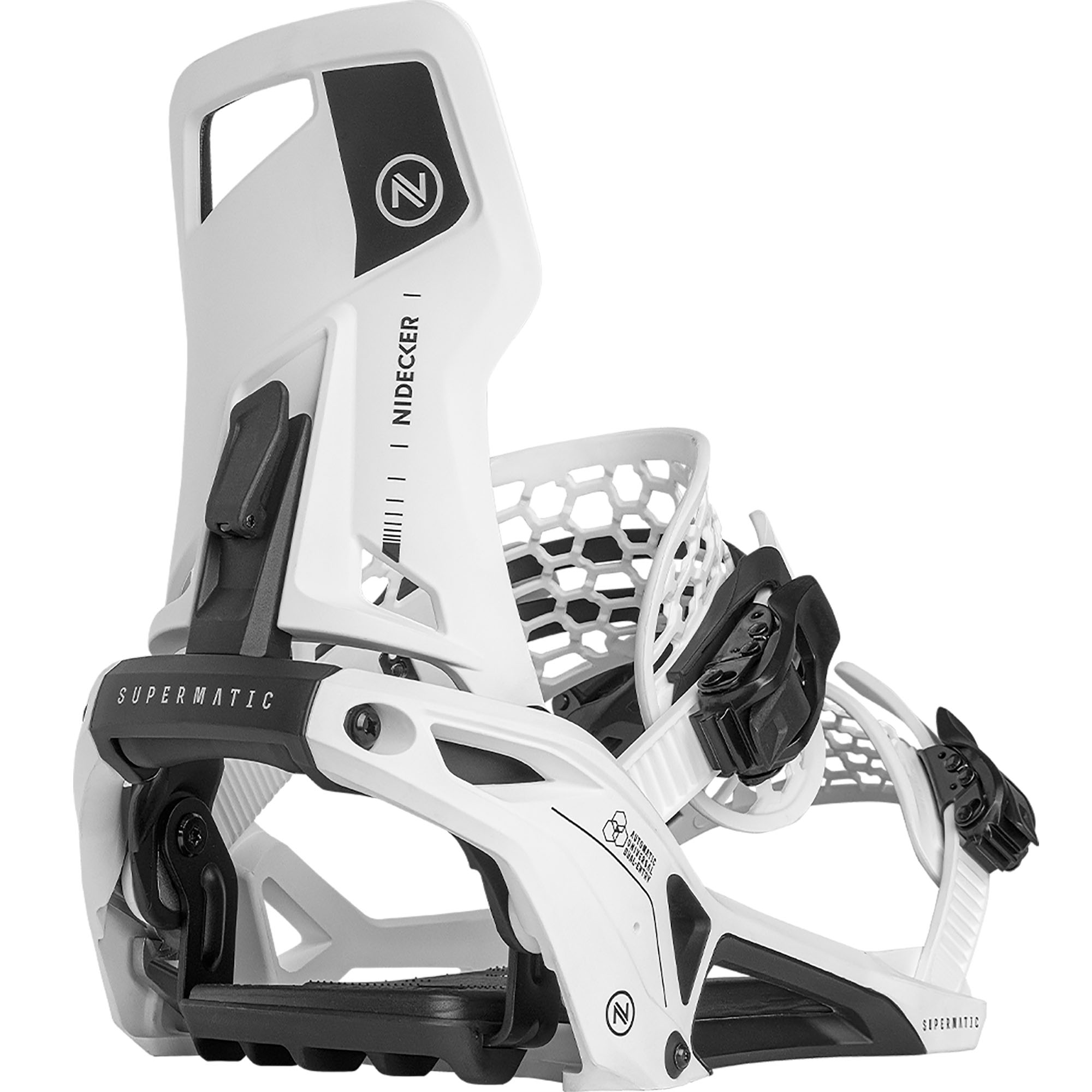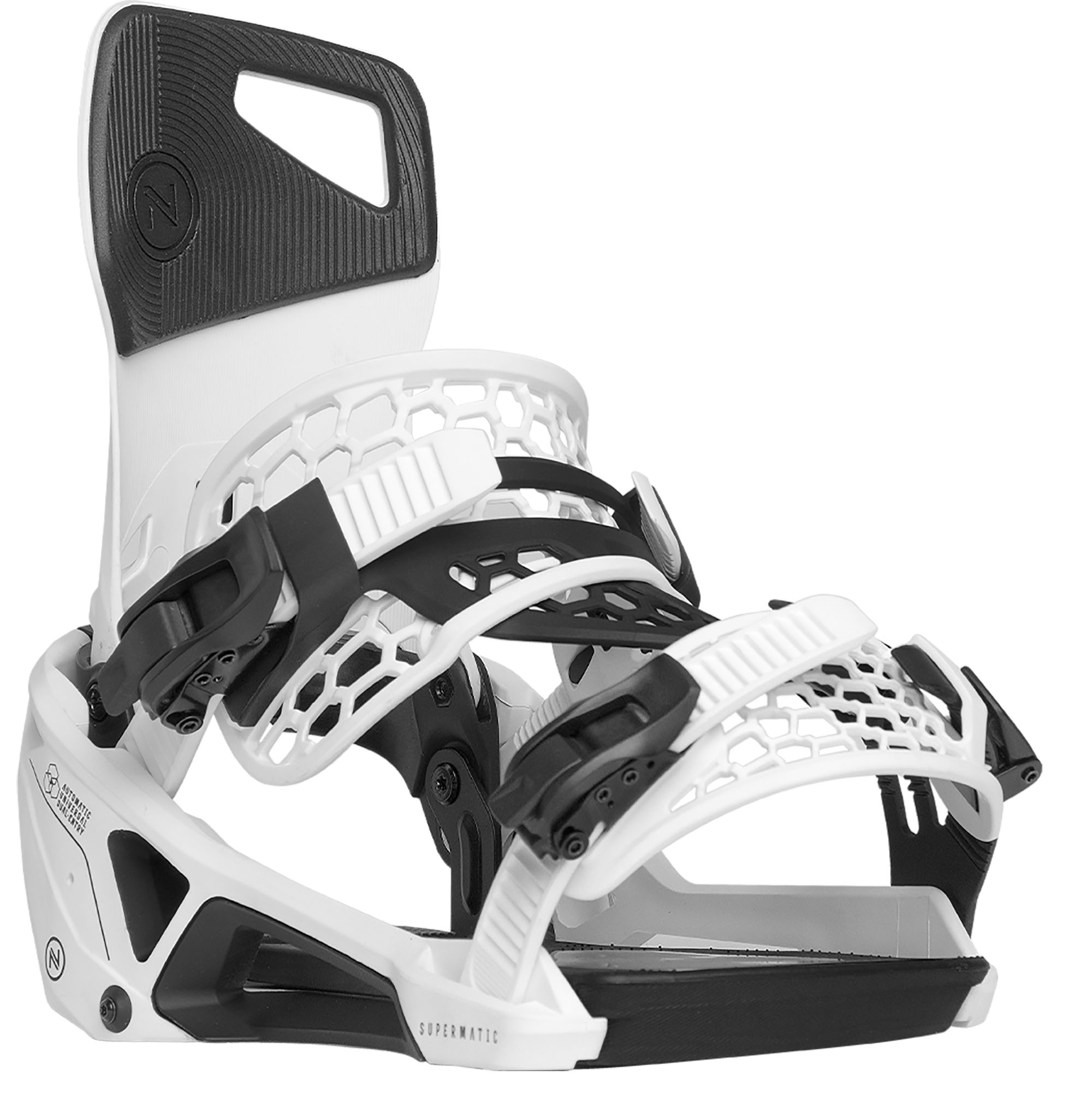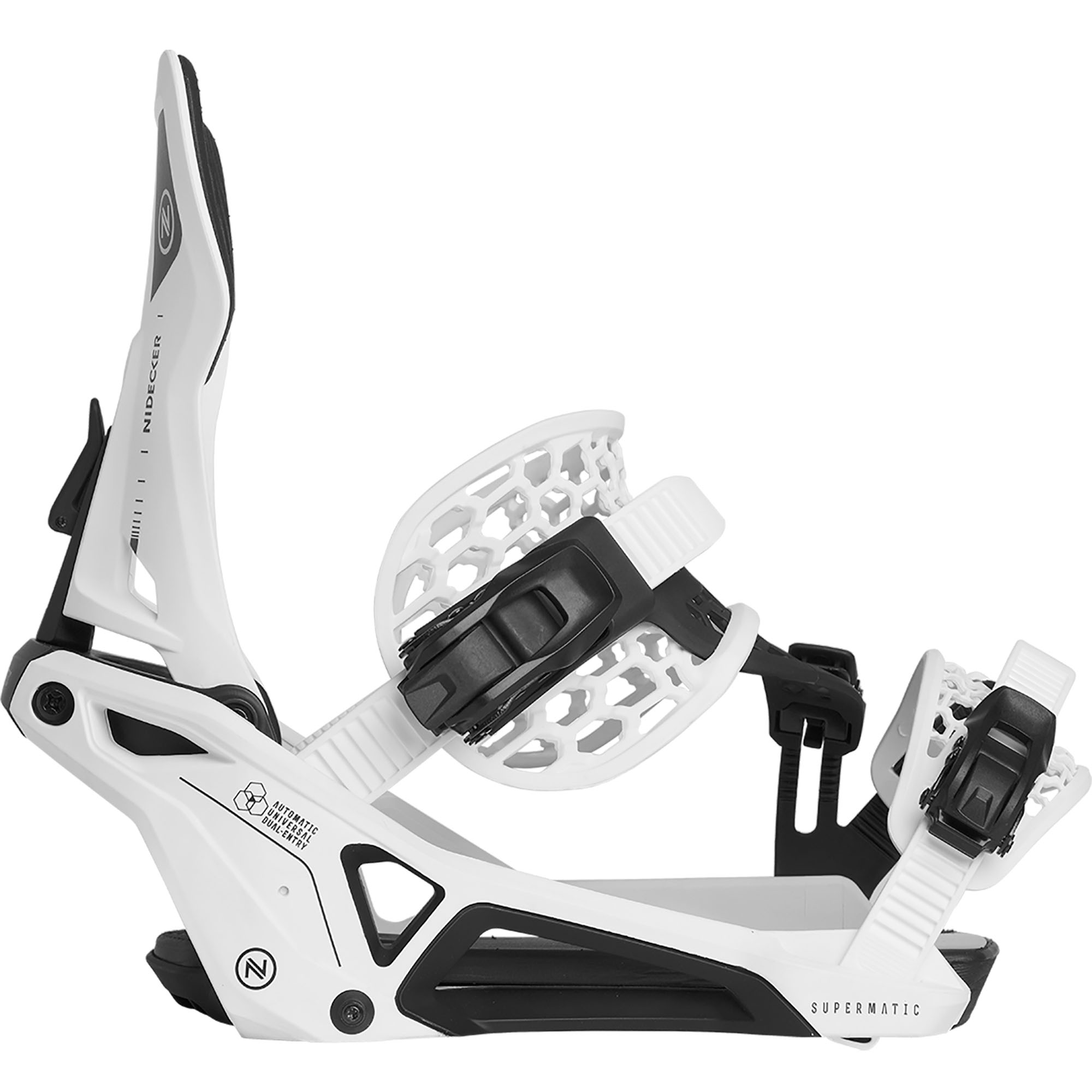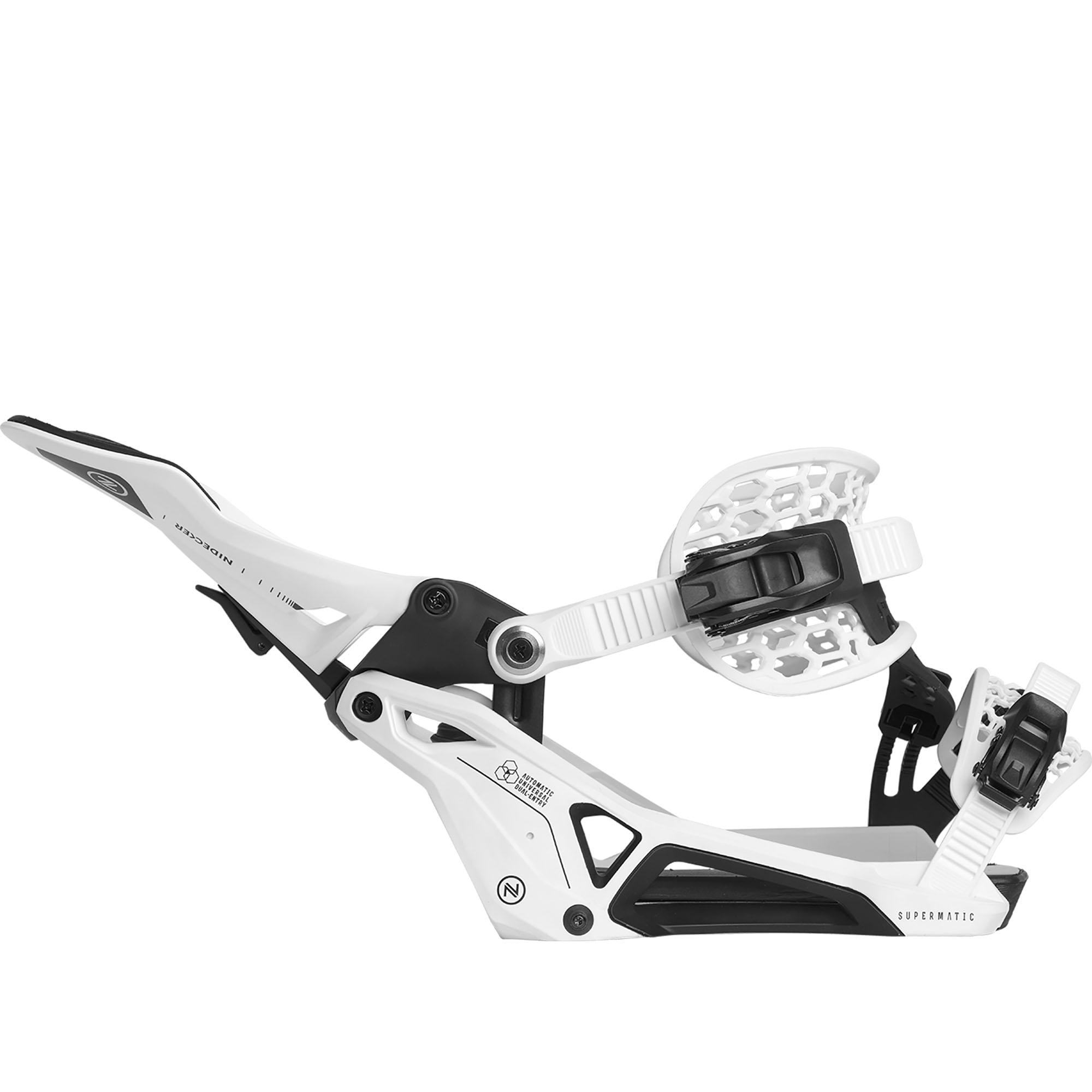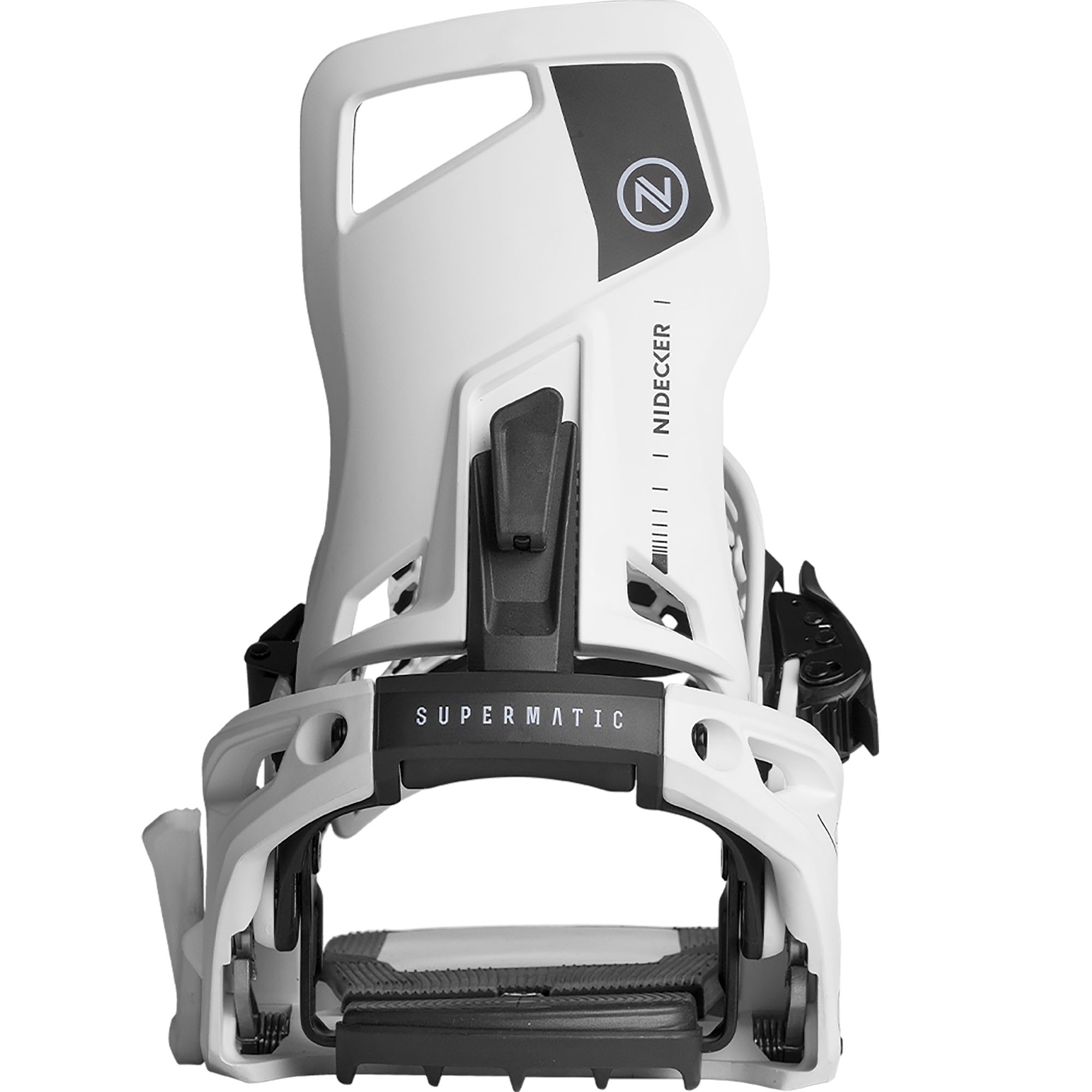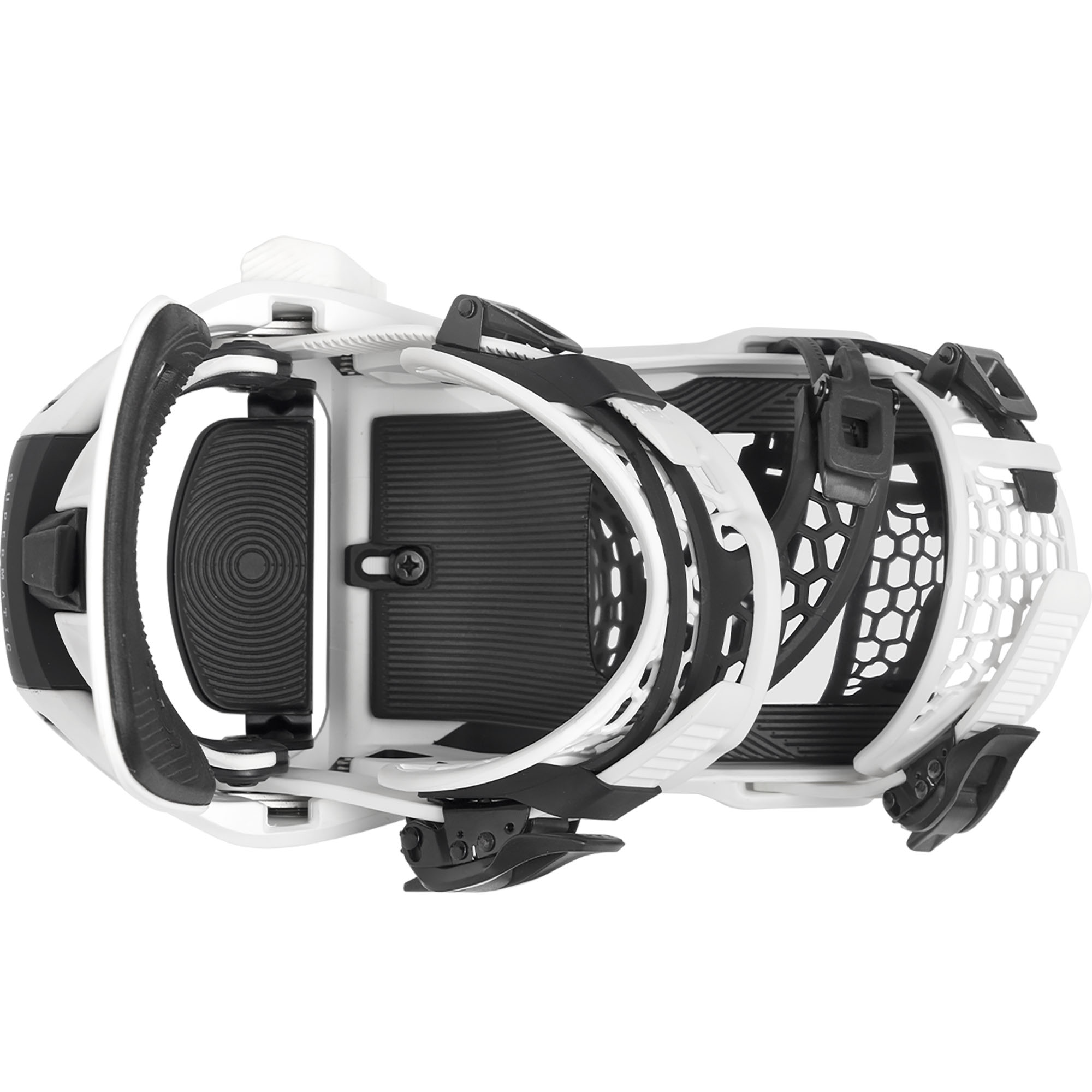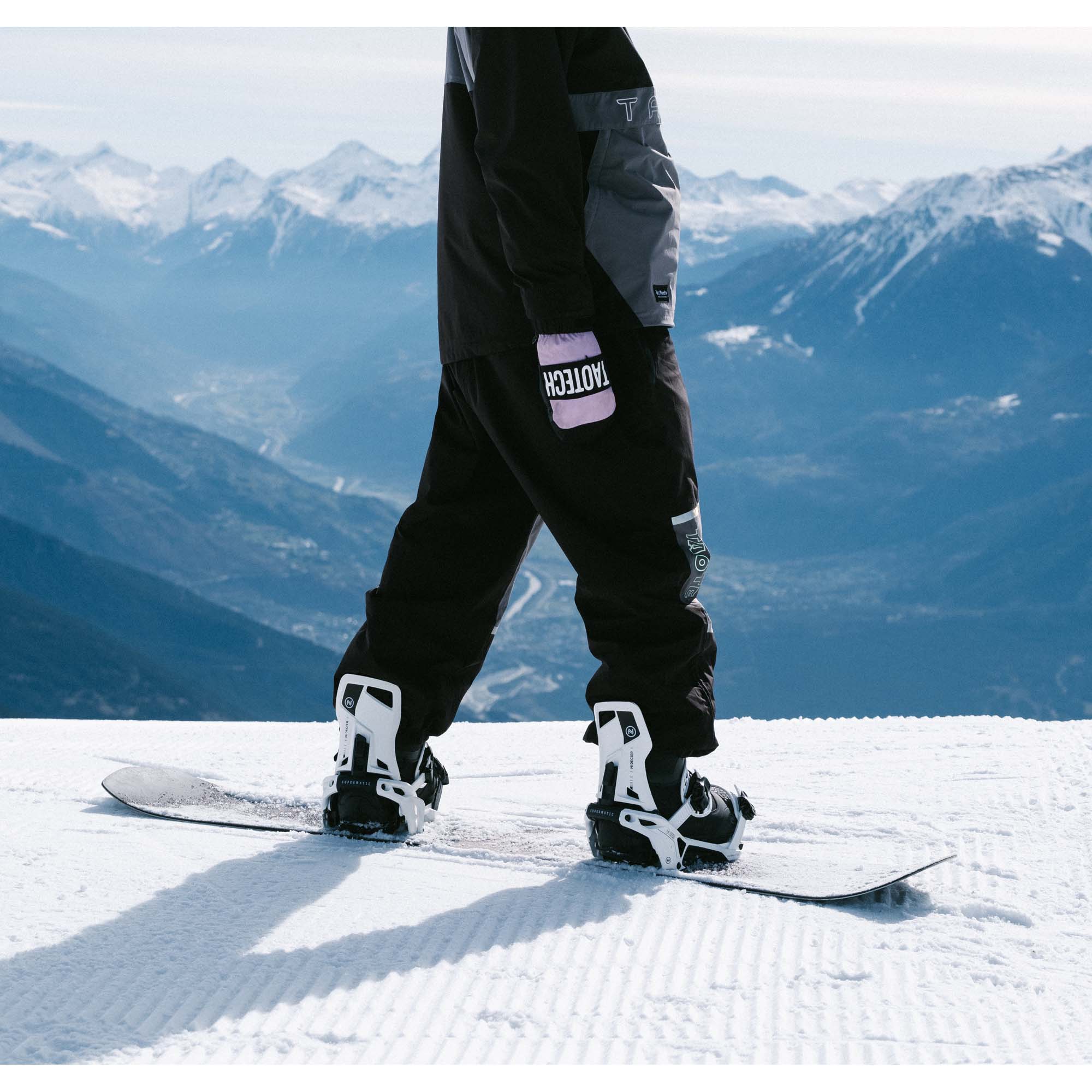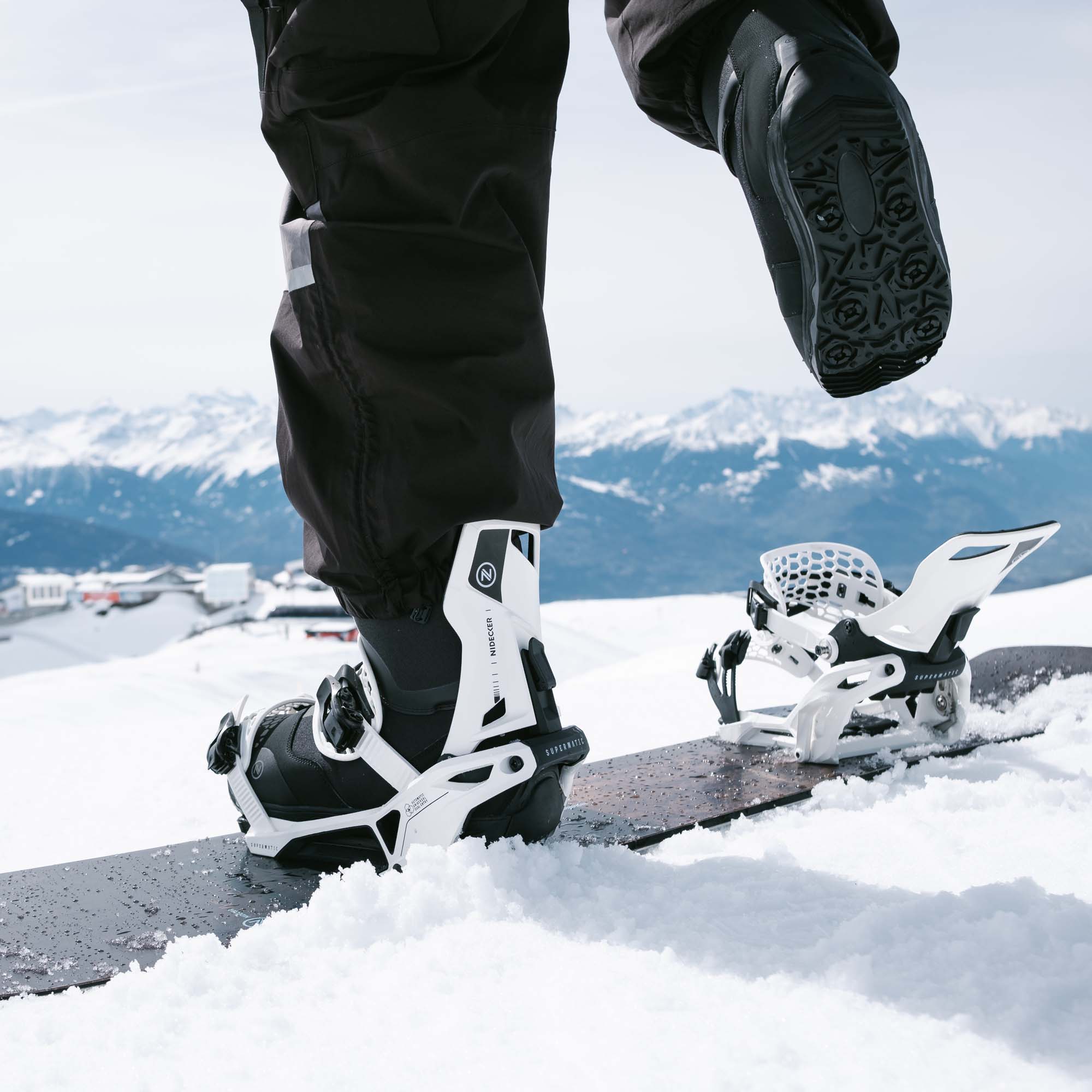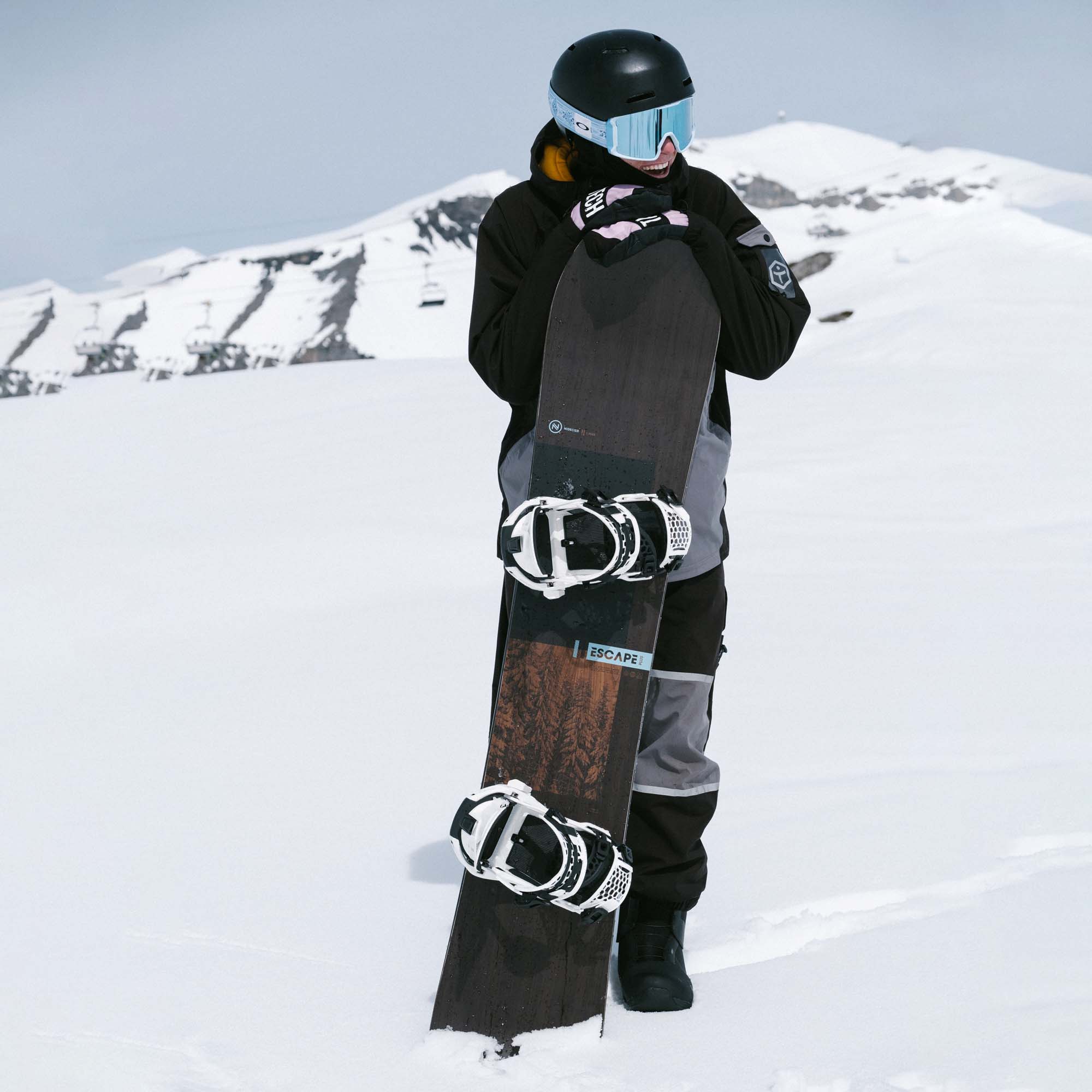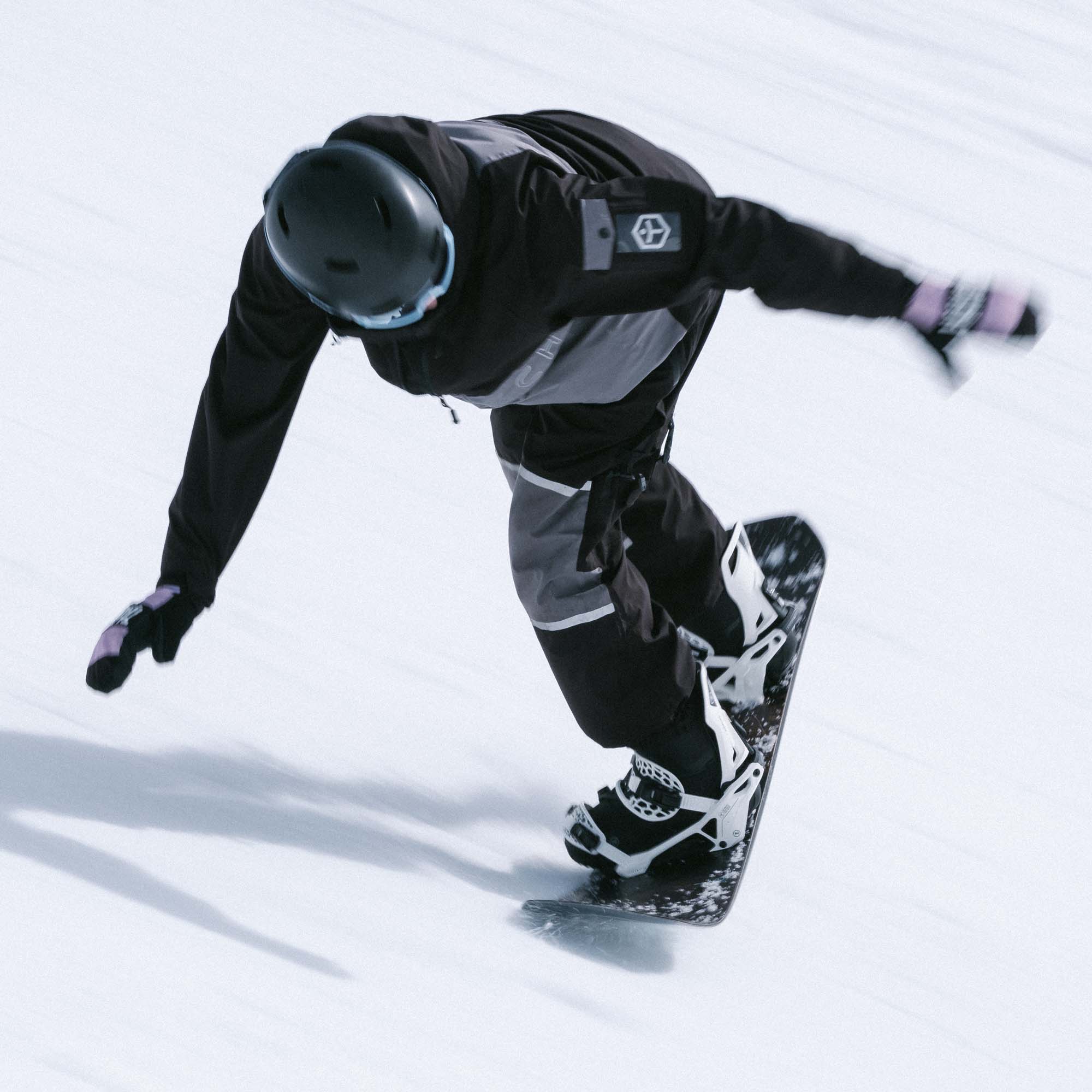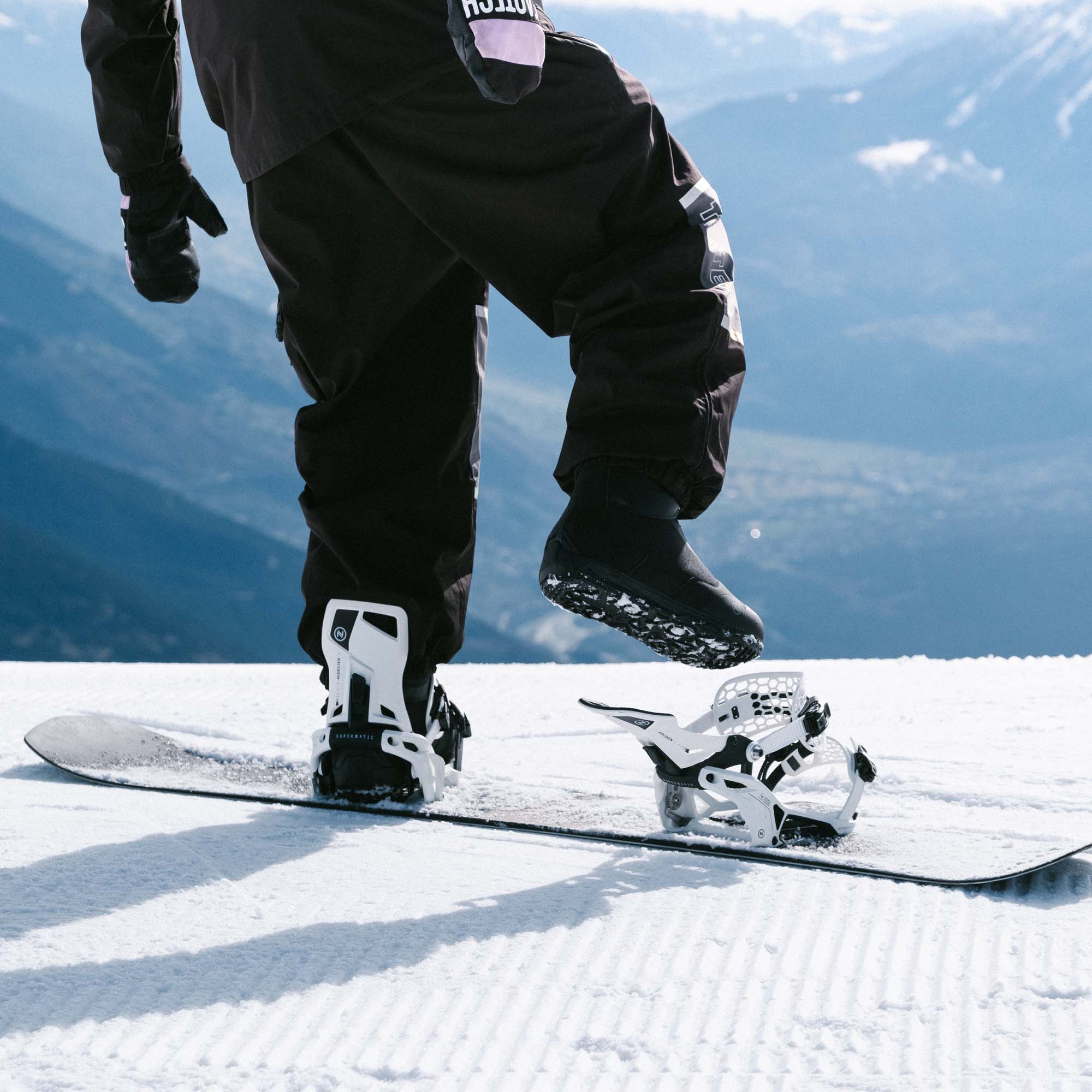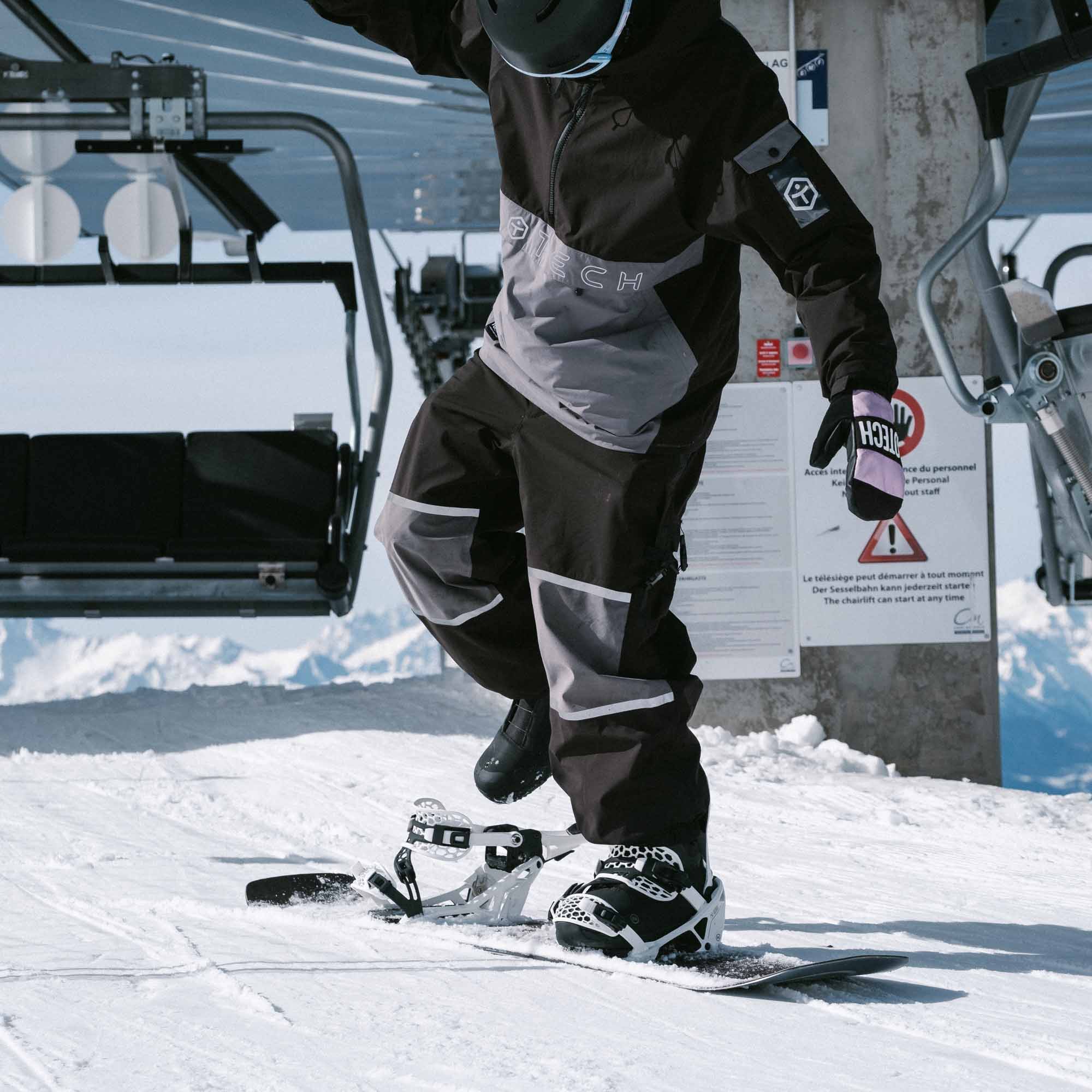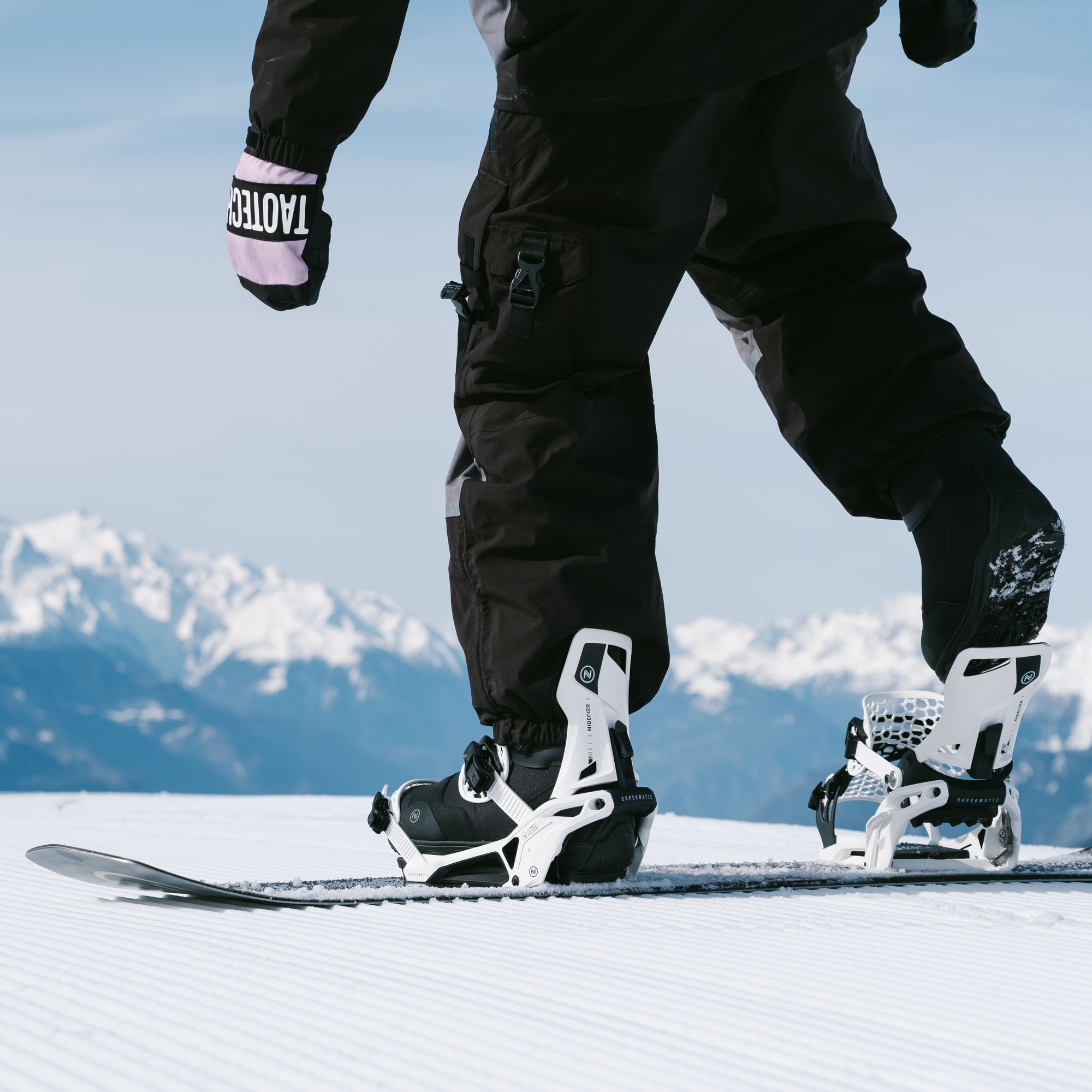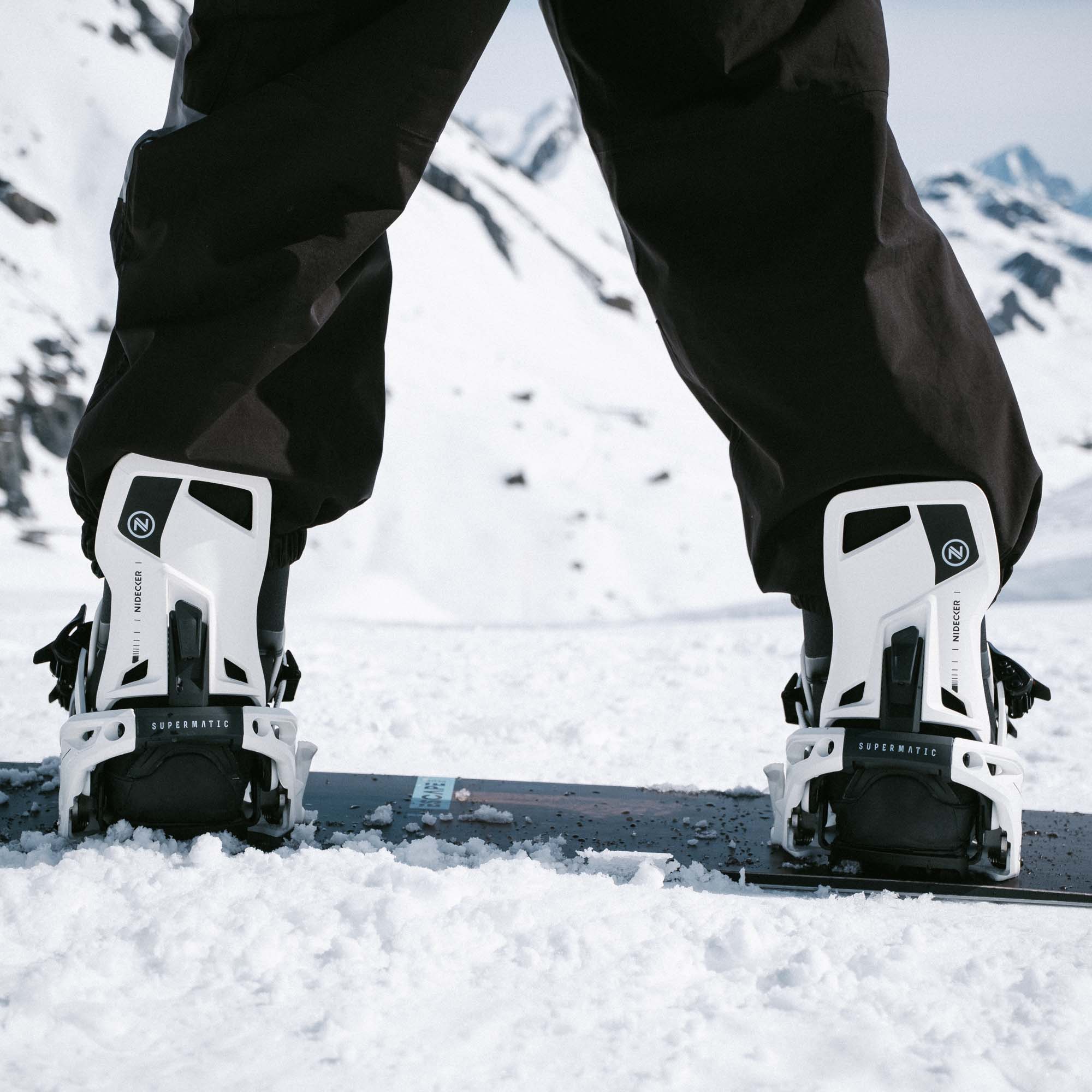 Supermatic Step In Snowboard Bindings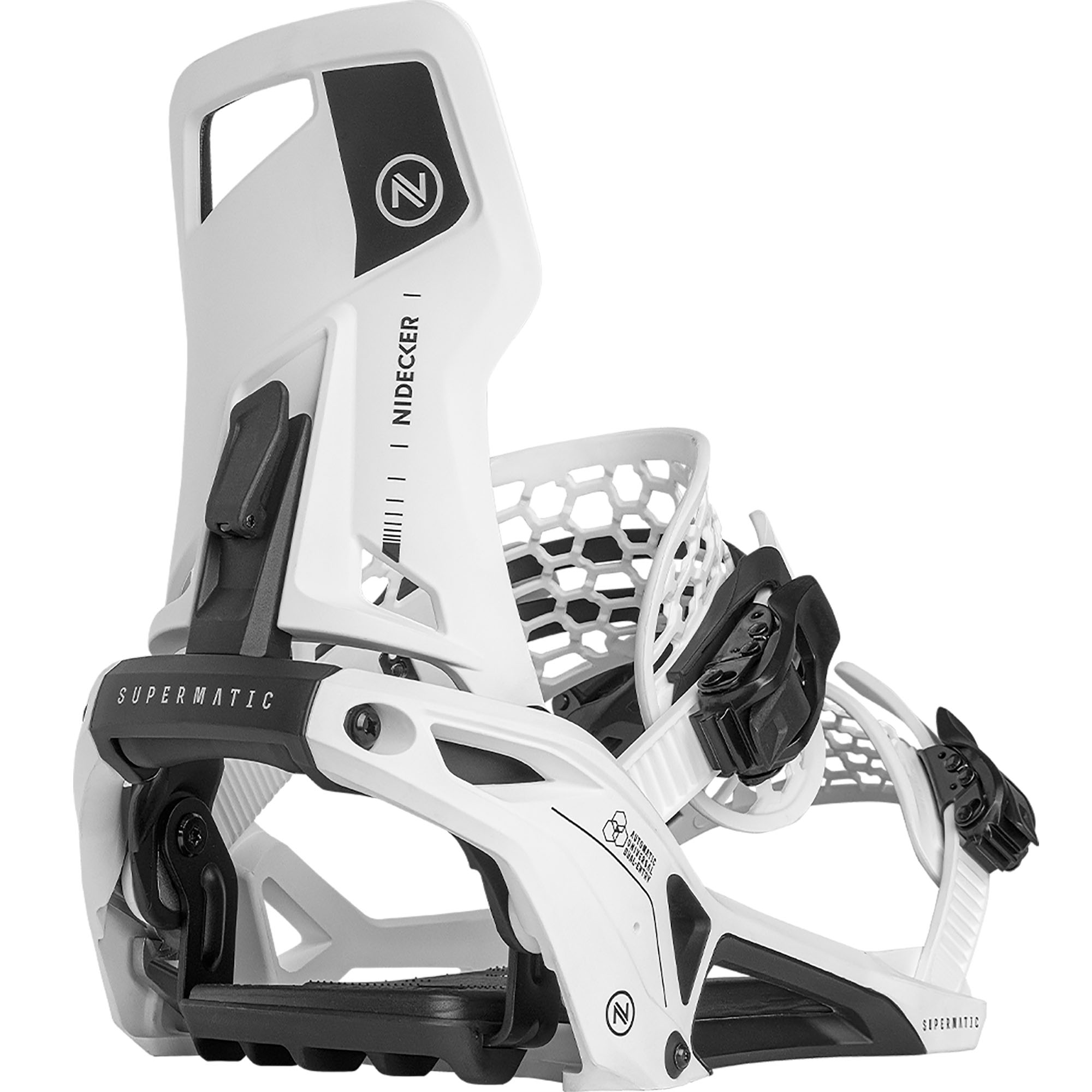 Nidecker Supermatic
The ultimate dual-entry automatic snowboard binding with universal boot compatibility.
Save an extra 10%. Read more.
Free UK delivery available
30 days to return
Need some help with this product?
About the Nidecker Supermatic
After four years in the making, Nidecker's Supermatic is the world's first universal dual-entry automatic step-in snowboard binding. This is what snowboarders have been waiting for and Nidecker has delivered.

What sets the Supermatic apart from Step On® bindings is its universal compatibility with any brand and model snowboard boot on the market.

The Supermatic's Drop-In technology supplies that customary lock-in feel. However, the Locking Slap Ratchet has an automatic closure system which remembers your measurements from the first time you step in. Now you'll have the same fit and feel without having to adjust before every session. Or if you prefer to do things the old-fashioned way, you can continue using them as regular buckles.

A heel pedal activates the automatic closure and folding down of the hiback and creates an opening for your boot. The heel pedal is designed to avoid snow build-up and a Heelcup Roller and Slip-N-Grip Plate guide the boot smoothly upon entry and exit. To release, an ergonomic lever is located on the medial side of the baseplate and is protected from anything that could accidentally trigger it.

With the help of Active Straps, you are assured the same tightness as the first time you step in. The straps also have a Hybrid design to give more efficient energy transfer, which also means you can afford to wear them a bit looser than you normally would.

The Supermatic step in bindings are also fitted with the Asym Rockered Matic-Series baseplate and heelcup. This version is constructed with glass-filled nylon, which is very light yet extremely durable with plenty of stiffness for an extra response when carving. The asymmetrical design provides optimal energy transfer while the rockered corners on the baseplate give a natural flex for precise and comfortable movement. This makes it ideal for riders who want to have a comfortable ride across a range of terrains and snow conditions. Nidecker has also used ExoFrame straps at the ankle for even more durability and response.

Finally, the Supermatic step in bindings contain a webbed 3D hinged Auxetic pattern that is extremely lightweight and forms evenly around the ankle and toe so you can get a comfortable, tight fit for extra performance.

Designed to work with any brand or model boot, the Nidecker Supermatic is a lightweight, strong and responsive snowboard step in binding that will offer top performance in all types of terrain and conditions.


Features Include:
Universal Boot Compatibility - Can be used with any brand and model snowboard boot on the market!
Reclining Hiback - Creates the fastest automatic entry system. It fully folds down, creating a large opening to conveniently drop in your boot
Locking Slap Ratchet Buckles - Lock down to secure your preferred footstrap tightness. Either Set-it and Forget-it for the Automatic mode, or just use them like regular buckles for the two-strap experience
Hybrid Straps - Designed to feel and work like a two-strap. Keeps the straps in place for easy entry. It also transfers energy more efficiently and allows the straps to be ridden a bit less tight
Release Lever - Push to unlock the engagement system and lift your boot up & out. The release lever is located on the medial side of the baseplate for maximum ergonomic efficiency and protection from external triggers
Heel Pedal - Activates the automatic closing of the hiback and straps, and locks the engagement system. This mechanism is self-cleaning to avoid snow build-up, and there are three engagement clicks for increased security
Heelcup Roller - Reduces friction and guides the heel of the boot down, for buttery-smooth entry and exit
Slip-N-Grip Plate - Reduces friction with the outsole of your snowboard boot. Allows you to easily slide in and out, without compromising the underfoot comfort of our 2.5° Bankbeds
Active-Strap - As you recline the hiback, the footstrap gets actively lifted out of the way, so you can easily and conveniently get your boot in and out. The straps hug your boot with the tightness at which you first set them, each & every time you drop in
Aux Tech - A 3D hinged Auxetic pattern for unmatched form fitting around the toebox of your boot
The Lowdown:
Rider Profile: Intermediate to Advanced
Mountain Profile: All mountain
Flex: Medium to Stiff
Compatibility: 3 hole and 4 hole systems & Burton ICS
Condition: Brand New
Reviews
Not tried yet , but set up QR codes to video links were really helpful
Nidecker has helped to push and progress snowboard design with consistent innovation from their state-of-the-art factory in Geneva
Explore Nidecker