Home

>

Salomon Ultimate Ride Hybrid Camber Snowboard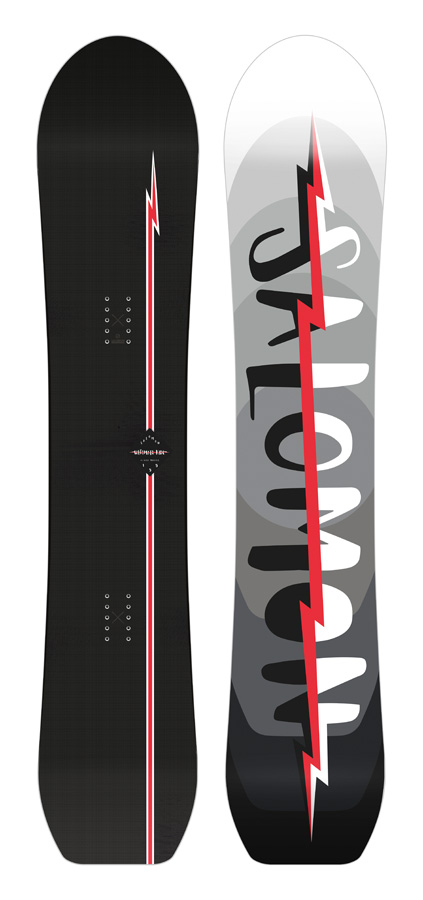 Ultimate Ride Hybrid Camber Snowboard
This product is currently unavailable
Salomon's powerful all mountain tech filled snowboard that dominates all over the mountain.
Free UK delivery available
30 days to return
Need some help with this product?
About the Salomon Ultimate Ride
The Salomon Ultimate Ride snowboard features a one-of-a-kind shape designed by Bode Merrill, one of the best all-around riders in the sport, and a whole bunch of top-end tech to ensure that this snowboard dominates any terrain it finds itself in.

The Ultimate Ride comes with Salomon's Quad camber profile that is characterised by a blend of different camber radiuses giving a more powerful feel than traditional camber, but still maintaining the amazing pop that we all know and love. On top of this, there are rocker sections on the snowboard's nose and tail ensuring float in powder.

Built using the Ghost Green Core, Salomon use carefully selected materials to optimise pop & performance whilst reducing weight. This combined with super light & sustainable Paulownia wood, plus a Triaxial medium density fibreglass layup ensures a consistent board feel and performance through the life of the board.

In addition, the Ultimate Ride comes fitted with a premium Area 51 base which is specifically designed to keep you going faster and send you bigger off jumps. Area 51 achieves this through an engineered factory finish and specially designed wax that optimises performance.

Salomon has provided the Ultimate Ride with their Quadralizer side cut profile. This side cut provides the best of both worlds and ensures superior edge hold when performing high-speed carves but also efficient edge control when performing tight aggressive turns. This twinned with Salomon's all-mountain edge bevel ensures that the rider has maximum control no matter where they find themselves on the mountain.

The Ultimate Ride is topped off with Gunslinger Sidewalls ensuring that all shock and chatter is absorbed, providing a smooth and controlled experience for the rider. For even more pop, Salomon's Popster tech shapes the core to maximise the natural snap of the wood. To do this the wood core is thicker at the centre of the board then tapers out to thinner sections then thickens again towards the nose and tail, this creates an insane amount of powerful pop!

All this tech is effectively and efficiently combined together by Salomon to create an aggressive all-mountain/freestyle ride that is certain to cement its place in the Salomon line as one of their stand-out boards for years to come!
Features Include
Ghost Green Core - Selected and designed to optimize pop and reduce weight while utilizing sustainable attributes of a super light paulowania wood
Quadralizer Sidecut - Explosive combination of Equalizer and Quadratic allows high speed carving as well as superior edge control in tight spots
Gunslinger Sidewalls - Carbon inlays have been added throughout the length of the snowboard to provide ultimate suspension and to dampen shock or chatter
Triaxial Glass - Multi density fibreglass layers at offset angles work to improve performance increasing response, durability and precision
Popster - Maximising the natural snap and powerful pop of wood with a shaped core profile for an unbelievable skate board like feel
Ghost Carbon Beam - Carbon stringers are sewn into a triax layer for reactive pop and stability at speed, and easy maneuverability when you're keeping it mellow
BA MD - Medium density European-made fiberglass layers guarantee a consistent quality level, for light and lively boards
All Mountain Edge Bevel - Detuning the tip and tail to a 1-degree edge holding tune throughout the key parts of the sidecut, back to a 2-degree bevel between the feet. This delivers the most solid edge hold with no hang-ups for all-mountain versatility
Area 51 Base - Built to go faster and fly higher - The Area51 base is a high-density sintered based laced with a super secret-wax formula, and a specially engineered factory finish designed for air time and durability
The Lowdown
Length
(cm)

Waist Width
(cm)

Boot Size
(uk)

Set Back
(cm)

Rider Weight
(kg)

153

25.2

6.5-9.5

1.5

55-75

155

25.4

6.5-10.5

1.5

55-85

158

25.6

6.5-11.5

1.5

65-90

161

25.8

7.5-11.5

1.5

70-105

164

26.9

8.5-13

1.5

70-105
Salamon released their first snowboard in 1997, and since then have firmly cemented their highly respected place in the snowboarding industry, just as they have done for the last 50 years with alpine skiing, nordic skiing, hiking, trail running, and everything else associated with mountain life.
Explore Salomon