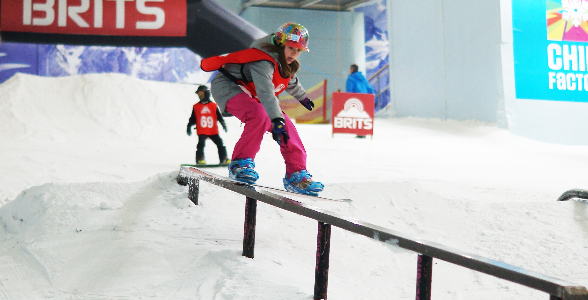 Name | Nicole Haines
Hometown | Leigh, Lancashire
Sponsors | Chill Factore, Surfanic, Volt Snowboard Co, Oz Dzynes, Bounceboard, Piranha Guard, Wigan Council, Velosure Cycle Insurance, Replay XD
Competition Results | Brits Indoor 15 – Silver U12, 4th overall out of the 2 best runs in U12 & U16, English Slopestyle Championships 2015 – Bronze U12, Brits Tignes 2015 – Slopestyle – Silver U12, Brits Tignes 2015 - SBX – Bronze U12, KJam Kendal 2015 – Gold U12, English Slopestyle Championships 2014 – Gold U12, Scottish Slopestyle Championships 2014 – Silver U12, Kendal KJAM 2014 – Silver – U12
Music | Anything by Kiss, rock music, Rush, Green Day
Food | Prawns, home made curry & bacon bagels with soft cheese
Other Stuff | I love dogs, animals and love playing the drums
Biggest Idol | Aimee Fuller

Bio | I started snowboarding when I was 8 and had my first lesson at Chill Factore with some leftover birthday money.
I wanted to try something different and I had never been to the Chill Factore before so thought I would give it a go. Also my Popsey was really ill at the time with cancer and I found snowboarding helped take my minds of things for the time I was on the slope as I had to concentrate o something else.
I love snowboarding as I find it inspirational and I enjoy riding with friends, I get to meet loads of new people and learn new tricks. Its fun learning the tricks even though you get a few bumps and bruises along the way. Snowboarding has also helped with my confidence and you keep really fit, I would recommend it to anyone! Sport is awesome for kids and adults alike!!
My dream is to be selected for the Winter Olympics in years to come. I am working really hard to achieve this goal and I would be really proud to represent GB. (as well as wanting to be a vet).
View this post on Instagram